Black Bankers Drop at Citigroup for Eighth Consecutive Year
(Bloomberg) -- Black workers are now down to about one in ten U.S. employees inside Citigroup Inc., according to 2017 figures in a report published on its website.
The drop is the eighth straight, following a decade of gains. In 2009, black employees made up about one in six people at the bank.
But Citigroup isn't alone. Black diversity fell from 2012 to 2016 at banks including JPMorgan Chase & Co. and Bank of America Corp., Bloomberg News reported last year. Wall Street is unwilling or unable to make lasting and consistent change, according to current and former black bankers and academics.
"While our commitment to diversity is strong, we realize that Citi's representation numbers for female and black talent lag behind where we want to be as a firm," said Jennifer Lowney, a spokeswoman for the New York-based bank. "This year we are setting additional representation goals for females globally and for black employees in the U.S. to help drive faster progress."
That firm and other banks are lagging behind the U.S. workforce, where about 12 percent of people are black. Inside Goldman Sachs Group Inc., which also released 2017 data, black workers make up 5.4 percent of U.S. employees, and 2.9 percent of executives, up slightly. Black executives are even rarer at Morgan Stanley, where the proportion rose to 2.2 percent last year from 1.9 percent.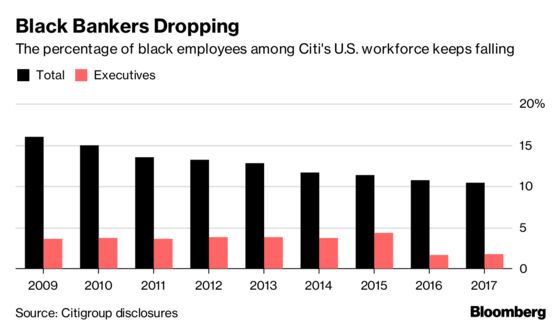 At Wells Fargo, whose 2017 numbers were sent to Bloomberg News, the picture is mixed. Black employees now make up 13 percent of the workforce, up from 12 percent over the past seven years, while executives fell to 5 percent from 8 percent a year earlier. Bank of America's black employees remained at 13 percent, while black executives rose slightly to 3.8 percent. JPMorgan hasn't released 2017 data.
The U.S. staffs at Wells Fargo and Citigroup are majority female, yet women are underrepresented at the top. They make up 29 percent of the executives at Wells Fargo, down from 37 percent in 2016, and 32 percent at Citigroup, up from 24 percent. At Goldman Sachs and Morgan Stanley, they remain under 22 percent.
The men who run the biggest banks preach the value of diversity. Mike Corbat, Citigroup's chief executive officer, says it's "a proven catalyst of economic growth and progress" in a quote on the bank's website. "The richness of our teams helps us to recognize diversity as an integral part of how -- and why -- we do what we do every day."