Balmy June to Boost Energy Use With Europeans Turning on Air-Con
(Bloomberg) -- Europe's summer will kick off with a warm June that's set to boost demand for electricity for fans and air conditioning.
All five forecasters surveyed by Bloomberg News predict unusually warm weather in the north and east. Temperatures are expected to abate slightly from the record heat seen in April and May, but could still be as much as 6 degrees Celsius (10.8 Fahrenheit) above average in some areas.
"Southern Scandinavia into eastern Europe will be running much above normal for the month as a high-pressure system travels slowly across from the Azores," said Tyler Roys, a meteorologist at AccuWeather Inc. "It will mean more energy being used during the afternoon, trying to keep cool with fans."
Demand for cooling usually peaks in the hottest months of July and August. But temperatures in Sweden are forecast to hit the mid-20 degrees this month, above the 18-degree threshold where businesses typically switch on air conditioning. Cooling is still a small share of final energy use in Europe, but demand has been rising in the summer, according to the European Commission.
Temperatures in Germany are forecast to be 5.7 degrees Celsius warmer than average next week and 4.9 degrees above usual in Sweden, according to Weather Company data using the GFS model.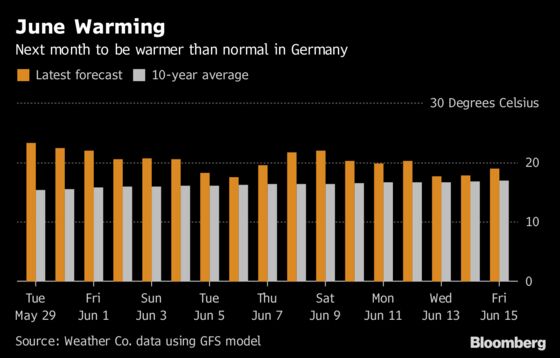 German month-ahead prices are already at the highest for the time of year since 2012, while those in France are at a seven-year high as capacity shuts down for summer maintenance just as hot weather boosts demand. The heat in Germany coincides with a 19-gigawatt drop in available power generation capacity as coal, lignite and gas plants shut for works next week, according to European Energy Exchange AG data.
The south of Europe will be "under a slack low-pressure pattern with cooler and wetter conditions," according to Amy Hodgson, a meteorologist at the Weather Company. The trend could switch to toward a cooler northwest and warmer southeast pattern later in June, she said.
In large parts of central Europe, the exceptionally warm and drier-than-usual April conditions have been affecting crops. The current "moderate drought" conditions over central and east Europe will persist in June, according to Peter Hocking, a meteorologist at UBIMET GmbH.
As well as drought and fire concerns across Scandinavia and eastern Europe, the dry weather is bringing an increased risk of thunderstorms and flash flooding.
Flooding, damaging hail up to an inch in diameter and gale-force winds may be seen in parts of northern Spain, France, Britain and into western Poland, the northern Balkans and the Alps, AccuWeather's Roys said.
"I can't rule out a tornado or two," he said.
May was the hottest on record since 1981 with major cities in Germany such as Berlin recording their hottest temperatures of the year, said Rebecca Fuller, meteorologist at Radiant Solutions
Cold air in the Atlantic is resulting in the extreme warmth in Europe vs very cold in Russia where there is late snow, said Joe D'Aleo, chief meteorologist at WeatherBell Analytics LLC
The world is heading for the 401st consecutive month of warming when compared with the 20th century, UBIMET's Hocking said