Turkish Banks Face Rising Pile of Debt-Restructuring Demands
(Bloomberg) -- Turkish banks are learning that all good things come to an end. After piling on corporate loans only a few years ago, lenders are now facing a surge in demand from companies seeking to reorganize debt repayments.
The rise in restructurings threatens to spur an increase in unpaid loans as a plunge in the nation's currency causes the cost of corporate Turkey's foreign-currency debt -- equal to about 40 percent of economic output -- to surge. An interest-rate increase to try and stem the lira's decline is also pushing up borrowing costs as the country's biggest businesses seek to rearrange almost $20 billion of loans.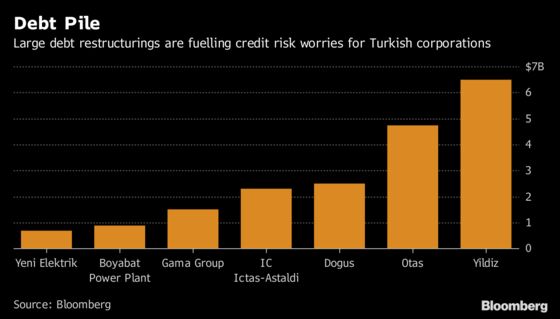 "A lack of standards in recognizing these loans could obscure real asset-quality deterioration trends within the industry," Tomasz Noetzel, a Bloomberg Intelligence analyst, said in emailed comments. "Now with lending rates higher, the lira still weak despite recent central bank moves, the ability to service debt could deteriorate further."
Billionaire Ferit Sahenk's Dogus Holding AS, which operates restaurants including steak chain and social-media phenomenon Salt Bae, last month asked lenders to restructure as much as $2.5 billion. Yildiz Holding AS, owner of Godiva chocolates and McVitie's snacks, said this month it agreed with banks to reorganize $5.5 billion of loans through a new four-year facility that has can be extended by another four years.
Joint ventures with international partners are also being affected. Italian energy firm Ansaldo Energia SpA and Turkish businessman Unal Aysal's Unit Investment are said to have started talks to restructure $700 million. Italian builder Astaldi SpA and Turkey's IC Holding AS are also said to be in talks with the Industrial & Commercial Bank of China Ltd. to refinance a $2.3 billion loan from 2013 with a new facility.
All of this comes as Turkey's biggest banks debate proposals to resolve a loan default of $4.75 billion by the insolvent owner of Turkey's biggest telecommunications company, Turk Telekomunikasyon AS, almost two years after talks first started. The 13-member Turkish banks index has declined almost 22 percent this year, compared with a 15 percent drop in the Borsa Istanbul 100 Index.
(A previous version of this story was corrected to remove Akenerji from the chart.)