Traders Irate as Computer Gave Wrong Price in AbbVie Tender
(Bloomberg) -- Equity traders were fuming after AbbVie Inc., maker of the world's biggest-selling medicine, Humira, announced the wrong price in a Dutch auction tender for about $7.5 billion of its own stock.
The North Chicago, Illinois-based pharmaceutical giant last night corrected the price it will pay for shares tendered in the buyback offer to $103 apiece, from $105 announced earlier in the day. AbbVie said some stock was "erroneously omitted from the initial preliminary results" in calculations by a third-party depositary.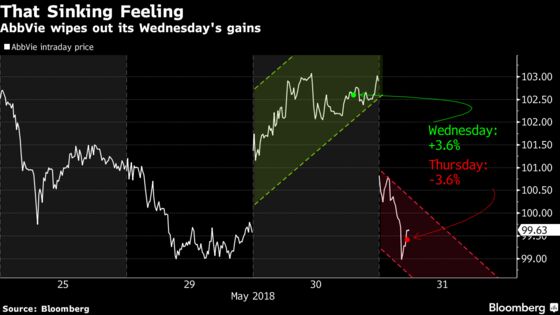 What's infuriating traders is that AbbVie rose the most in a month during Wednesday's session -- before the mistake was announced. More than $2 billion worth of shares traded between 9:30 a.m. and 4 p.m. Wednesday on U.S. exchanges at a volume-weighted average price of $102.02, according to data compiled by Bloomberg.
It closed at $103.01, up 3.6 percent. On Thursday, the gains were erased, as shares fell as much as 4.1 percent to $98.81.
Only a handful of Dutch auctions have ever exceeded AbbVie's. Amgen Inc.'s $10 billion offer in March was one. Home Depot Inc. did another for $10.5 billion in shares in 2007.
Michael Samuels, an event-driven portfolio manager for Broome Street Capital, said he has never seen a company change the pricing of a tender hours after releasing initial terms. Seven other U.S. traders who asked not to be named voiced similar dismay.
"I think the same people who made a lot trading the Amgen tender a few months ago decided to play this one as well, and unfortunately many most likely got burned," Samuels said.
A spokesperson for Computershare acknowledged the mistake and said the company apologized for the "one-off issue." Adelle Infante, a spokeswoman for AbbVie, pointed to Wednesday's press release in response to a request for comment.
Dutch auctions, in which a company asks shareholders to submit stock for repurchase within a specified price range, are one of several ways companies can buy back shares. AbbVie, which set a range of $99-$114 on May 1, said before the market opened Wednesday that it would buy shares at $105 and that about 94.3 percent of stock tendered would be accepted.
Those numbers later changed. After the close, citing a mistake by Computershare Trust Co., its depositary, Abbvie said it would accept about 98.4 percent of shares at $103 each.