Quick Tip for China's Video Makers – Keep It Short
(Bloomberg Opinion) -- Mary Meeker's annual Internet Trends report is once again chock full of fascinating data and observations. This year, my eye was drawn to slide 246 (of 294).
China has become such an important and idiosyncratic part of global internet industry development that it gets its own chapter in the presentation, which is put together by Meeker, a partner at VC firm Kleiner Perkins Caufield & Byers. The China section was compiled by Chinese investment company Hillhouse Capital.
Slide 246 shows a sharp uptick in time spent watching short-form videos – those under five minutes – seemingly at the expense of long form and well ahead of live and game streaming. Bear in mind that with videos so brief, it takes a whole lot more of them to equal the time spent on longer content.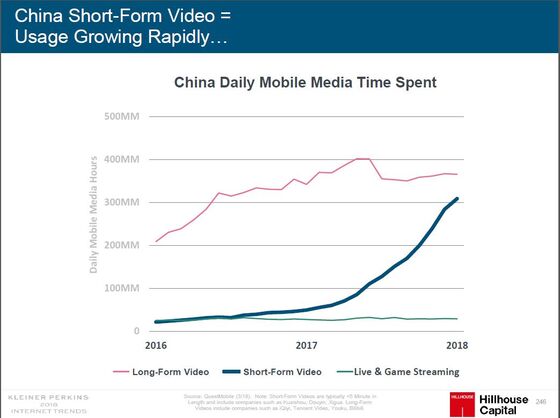 A curious fact is that while time spent on short videos climbed 360 percent in 2017, most Chinese consumers use only one service, according to research company QuestMobile. Younger Chinese install more than 20 apps apiece on their phones; however, 76 percent of all consumers have just a single short-video app. 
The Meeker/Hillhouse presentation highlights two of the major players – Douyin and Kuaishou – which both say they have around 100 million daily active users and an average 52 minutes spent per viewer on their apps each day. Stickiness is also very high, with approximately half of all monthly users returning on a daily basis.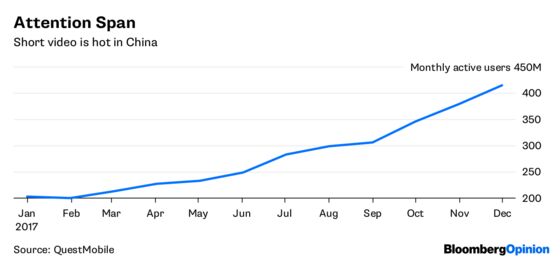 It's possible that short video is just a fad and users will return to long form in future, but given the global trend toward shorter attention spans requiring fast content, this seems unlikely.
Advertising budgets deployed on long-form video overtook those for network TV in China last year in line with the rising popularity of the medium, according to the Meeker report. With short-form fast approaching the time spent on long-form video, content providers hoping to capture the ad money need to pay attention.