Japan's Banks Lose Earnings Tailwind With Slump in Foreign Bonds
(Bloomberg) -- Japan's biggest banks are losing an earnings driver, thanks to the slump in foreign government bonds.
With interest rates near zero at home, the three so-called megabanks had flocked to bonds abroad in recent years to bolster returns. Now, with Treasury yields surging since last year, they're faced with either selling down their holdings in anticipation of further price declines, or incurring mounting valuation losses. And with political turmoil in Italy roiling European bond markets, banks may think twice about reallocating their holdings to the region.
The Tokyo-based lenders may "suffer from rising price risks on foreign bond holdings" due to higher U.S. Treasury yields, Bloomberg Intelligence senior industry analyst Francis Chan wrote in a note. "They could book more unrealized losses this year."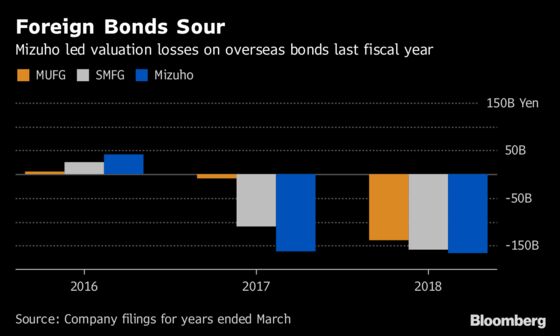 Mizuho Financial Group Inc. had the biggest valuation loss on its foreign bonds of the three lenders in the fiscal year ended March, followed by Sumitomo Mitsui Financial Group Inc. and Mitsubishi UFJ Financial Group Inc., earnings reports showed last month. The paper losses were the steepest for all three banks in at least four years.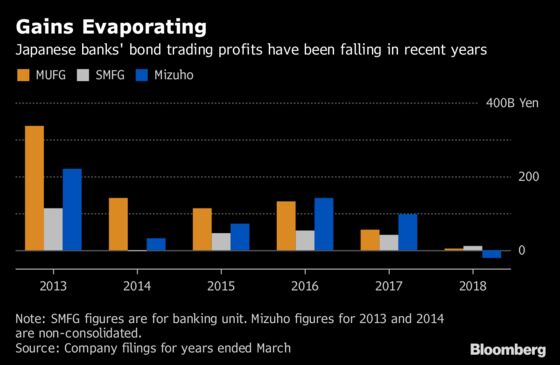 While U.S. bonds were once a "cash cow" for Mizuho, it's now cutting overseas debt and allocating funds to stocks, Chief Executive Officer Tatsufumi Sakai said on May 15. Last quarter, the bank posted a loss of about 50 billion yen ($460 million) on foreign bonds as it sold the securities to adjust its dollar investment portfolio.
Related Stories 
Ex-official says BOJ policy is driving banks to excessive risks
Regional lender isn't tempted by rising Treasury yields
Banks face quandary after dumping foreign bonds 
Japan asset manager returns to Spanish bonds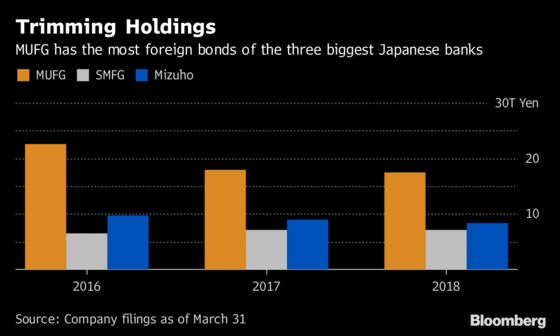 MUFG, which has the most foreign bonds among Japanese banks, cut its holdings by about 2.4 trillion yen in the three months ended March. About 70 percent of the balance is in U.S. Treasuries and the bank will consider moving some of those funds to European bonds, CEO Nobuyuki Hirano said last month.
"If you ask where funds can go in this environment, the U.S. is difficult, you can't say Europe is without unease and Japanese government bonds are negative out to five years," said Ryoji Yoshizawa, an analyst at S&P Global Ratings in Tokyo. "There's nowhere to go."