Ivory Coast Seeks Return of Golden Age With Roads, Bridges
(Bloomberg) -- Ivory Coast plans to renew most of its road network and ease congestion in the largest city, Abidjan, as part of a $6.4 billion plan to improve infrastructure in the world's biggest cocoa producer.
The government's focus on large infrastructure projects has sustained one of Africa's fastest-growing economies since 2012 and helped the country regain its position as a regional hub in French-speaking West Africa after almost a decade of conflict. Investment spending accounts for a third of the 2018 budget under President Alassane Ouattara, with the International Monetary Fund forecasting economic growth at 7.3 percent this year.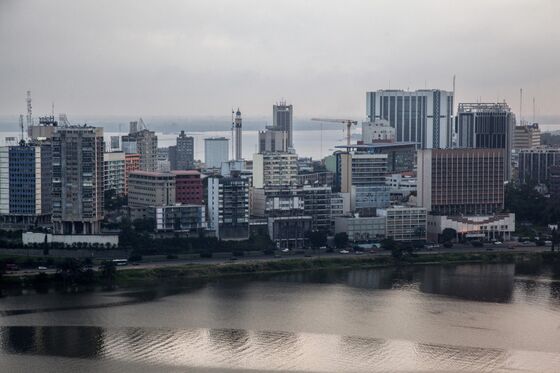 "We want to be an emerging country but to achieve that, we will need high-quality infrastructure to support the economy," Amede Koffi Kouakou, minister of economic infrastructure, said in an interview Tuesday in Abidjan. "We have to ease the congestion in Abidjan, we have to be able to transport our agricultural goods to the ports.''
The pace of construction has been swift. Several key projects undertaken during Ouattara's tenure were first designed and planned in the 1970s and early 1980s in a period Ivorians today still refer to as a golden age because of record economic growth and political stability. They include a toll bridge across the lagoon in the heart of Abidjan and a dam in the west that has added 275 megawatts to the national power grid.
In the next few years, Alstom SA and Bouygues SA will oversee the construction of a $1.6 billion commuter train network in Abidjan, while the city of about 6 million people will get two additional bridges and at least four interchanges, Kouakou said. The government announced last week that it handed a contract for what will be Abidjan's fourth bridge spanning the lagoon to China State Construction Engineering Corp.
Another priority is a better road network. The government is extending its only four-lane highway in the interior and building a wider road to the eastern border with Ghana. About 70 percent of the tarred roads need repairs, and tens of thousands of kilometers of unpaved roads connecting remote farms and villages to the main towns have to be improved, Kouakou said.
Many cocoa farmers lose access to their plantations during the rainy season that typically peaks in June and July. Most paved roads fell into disrepair during the conflict that divided the country into a rebel-held north and a government-controlled south until Ouattara assumed office in 2011.
"We have 4,500 kilometers of road that are often older than 18 years," Kouakou said. "There was almost no maintenance during the crisis -- we have a lot of work to do."