Madrigal Threatens Intercept's Lead in Fatty Liver Disease
(Bloomberg) -- Madrigal Pharmaceuticals Inc. more than doubled after a study of its new drug for a disease linked to obesity exceeded investor expectations.
The Fort Washington, Pennsylvania-based company soared a record 120 percent at 10:50 a.m. in New York, adding almost $2 billion to its market value. The results from a mid-stage study of the fatty liver disease known as nonalcoholic steatohepatitis, or NASH, also pushed small-cap peer Viking Therapeutics Inc. higher while shares of Intercept Pharmaceuticals Inc., a drugmaker further along in NASH development, slid.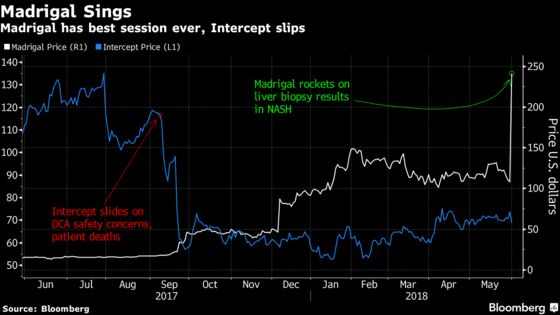 Patients getting Madrigal's experimental therapy known as MGL-3196 had a two-point reduction in a score that measures disease activity with a liver biopsy. More patients getting the drug saw improvement compared to those getting a placebo, and half of the patients whose disease was resolved also had their fibrosis disappear. Cowen analyst Ritu Baral had previously said a good outcome would be a two-point change in the score known as NAS, a trend toward resolution of the disease and a "directional improvement" in fibrosis.
Intercept shares slipped 10 percent. The company's Ocaliva treatment is in late-stage testing for NASH but concerns over safety have weighed on investor expectations. Of the seven serious side effects seen in Madrigal's study, none were found to be drug related. Meanwhile, Viking Therapeutics climbed 68 percent to a three-year high. The company is developing VK-2809, which works similarly to Madrigal's drug.
Gilead Sciences Inc. is expected to report results from a late-stage NASH study next year. The company has been on the hunt for acquisitions and Jefferies analyst Michael Yee expects it may aggressively target deals in NASH. Madrigal's results may "reasonably support" Gilead interest, Yee wrote in a note to clients Thursday.