Goldman Is Said to Top 2017 Commodity Revenue in Just 4 Months
(Bloomberg) -- Goldman Sachs Group Inc. has shaken off its commodities woes, making more money in the sector in the first few months of this year than it did in all of 2017, according to people familiar with the matter.
Goldman's commodities unit, for decades the envy of Wall Street, became emblematic of the bank's trading struggles last year as its net revenues dropped by roughly 75 percent to the lowest in the bank's history as a public company.
But the unit has had something of a return to form this year, according to the people, who asked not to be named because Goldman doesn't report its commodities results publicly. In just four months, the bank's net revenue in commodities surpassed its full-year performance in 2017, which had plunged to about $250 million to $300 million for the full year, the people said.
Goldman's gas and power division, which lost money in 2017, benefited from volatility in energy markets as the U.S. northeast was hit by a blast of freezing weather at the start of 2018, while Europe suffered a cold spell in February and March, the people said. Then in April, the bank was positioned to benefit from a rally in aluminum just as U.S. sanctions on United Co. Rusal triggered a price spike.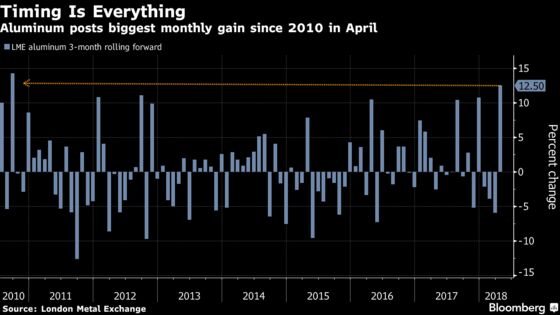 "As the global economy has strengthened, demand for some commodities has picked up, and prices have been more volatile," said Michael DuVally, a spokesman for Goldman Sachs. "We've seen a corresponding increase in interest from our clients ranging from investors to corporates." He declined to comment specifically on the trading desk's revenue.
Chief Financial Officer Marty Chavez told analysts on a conference call in April that the commodities performance had "increased significantly" in the first quarter thanks to "improved performance, particularly in natural gas and power."
While the commodities division is performing significantly better than 2017's dire level, it's still far from a return to the heyday of revenue topping $3 billion in multiple years last decade, according to documents that were released by a Senate committee. In 2016, Goldman's commodities net revenues were a little under $1.1 billion, Bloomberg reported at the time.
The bank recently announced the departure of Isabelle Ealet, one of the heads of Goldman's securities unit and widely considered the queen of commodities on Wall Street. Ealet, who had sought to leave the bank previously as well, was persuaded by Chief Executive Officer Lloyd Blankfein to stay on until the division was back on solid footing, a person with knowledge of the matter said at the time.