GM Adds SoftBank as Ally in Self-Driving Race Against Google
(Bloomberg) -- General Motors Co., fueled by a $2.25 billion investment from SoftBank Vision Fund, is putting serious heat on Google in the race to usher in the autonomous-driving future.
GM announced that the SoftBank fund would take a stake in its Cruise autonomous-car unit just hours before Alphabet Inc.'s Waymo expanded its partnership with Fiat Chrysler Automobiles NV. The major powers are squaring off into alliances to ensure they claim a stake in the future of the transportation industry, where machines will rule the road and old business models could vanish.
"This gives GM Cruise the capital necessary to commercialize at scale," GM Chief Executive Officer Mary Barra told reporters. SoftBank's backing sent GM's shares surging by the most since the November 2010 initial public offering.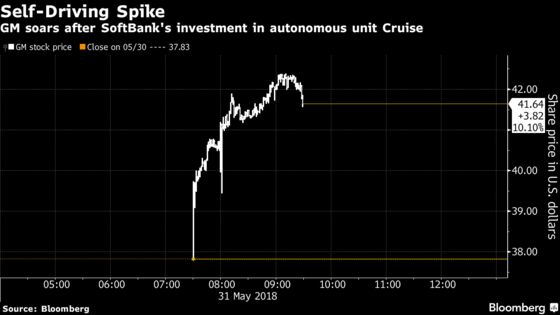 After more than a decade in research garages, autonomous vehicles have emerged as a crucial technology that could decide winners and losers in the auto industry of the future. Google's jump out to an early lead sparked furious deal-making as giants from the vehicle manufacturing and technology sectors coalesced to catch up.
SoftBank's support for GM bolsters the largest U.S. automaker's position among the major contenders. Other players, including Uber Technologies Inc., China's Baidu Inc. and Germany's Daimler AG, are also in the running.
GM shares climbed as much as 12 percent and were up 10 percent to $41.72 as of 12:42 p.m. in New York. The stock was down 7.7 percent this year through Wednesday's close.
GM intends to be the first automaker to bring an autonomous taxi service to public roads in 2019. That's likely to be on the heels of Waymo, which planas to debut a public ride-hailing service in Phoenix this year. SoftBank can lend expertise and connections to help keep GM close on Waymo's trails, as it's invested in major ride-hailing companies including Uber and China's Didi Chuxing.
SoftBank Group Wants to Dominate The Future of Mobility: BNEF
Cruise's value has been on the rise since GM acquired the company two years ago for $581 million in cash. Adding in bonuses and other payments to key employees, the deal was said to have cost closer to $1 billion.
GM's stake in Cruise is now worth about $9.2 billion, Joseph Spak, an analyst at RBC Capital Markets, said in a note to clients. While it's difficult to assess who's winning the autonomous race, he's argued that GM "has a meaningful seat at the table" and said the SoftBank deal "affirms that view."
The dual announcements by GM and Waymo highlight a growing battle between two technology industry giants: SoftBank Group Corp. Chairman Masayoshi Son and Google co-founder Larry Page.
Page's quixotic enthusiam for sci-fi transportation solutions kick-started the modern era of autonomous cars during the global financial crisis, when GM and other auto industry giants were in and out of bankruptcy.
Son's interest has surfaced more recently, though his pockets may be deeper. With about $100 billion committed to the SoftBank Vision Fund, he's become a backer for the likes of India's ride-hailing leader Ola, chipmaker Nvidia Corp. and driver-behavior tracker Nauto Inc. The Cruise investment may be his biggest step into the autonomous-vehicle race so far, and puts new pressure on Page's goal to be first to revolutionize transportation.
"We were blown away by the ability of the Cruise team to integrate quickly," said Michael Ronen, managing partner of SoftBank Investment Advisers. "The ability of GM to put production to work and make this a success was the last piece of the due diligence."
The capital raised from SoftBank and another $1.1 billion that GM will invest in Cruise will carry it through the phase of making a business out of self-driving cars, GM President Dan Ammann said. Both GM and SoftBank will be prevented from selling their stakes in Cruise for seven years, and GM will report the unit's financial results in quarterly reports.
Some analysts are applying escalating values to GM's future in autonomous driving and services. Deutsche Bank's Rod Lache, who's opined that that the business could be worth $30 billion, wrote in a report Thursday that its value may climb to more than $60 billion when it goes global and that GM's shares could more than double.