Ghana Is Scrutinizing Mines in Revenue, Compliance Drive
(Bloomberg) -- Ghana has started an audit of its mining industry as it seeks more revenue and wants to "ensure compliance" among companies in the country that is Africa's second-biggest gold producer, a deputy finance minister said.
The West African nation has appointed consultants who are scrutinizing contracts, Kwaku Kwarteng said in an interview. This comes after Vice President Mahamudu Bawumia on May 8 said the nation was benefiting little from its mineral wealth and needs a review of its mining code and tax policies, a move that has "sent jitters" through the industry, according to the country's Chamber of Mines.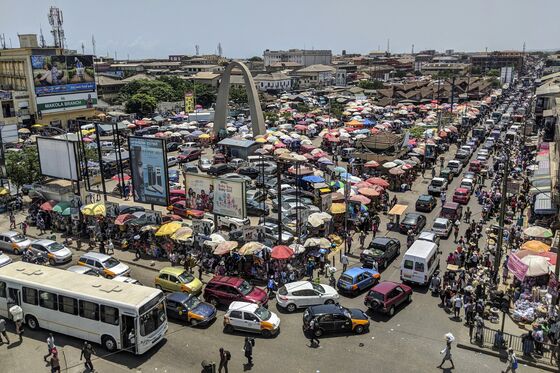 "Our objective is to see where there are gaps so we can take measures to plug them," Kwarteng said Tuesday in the capital, Accra. "We hold the contracts and agreements sacrosanct, but we also consider that we are entitled to review agreements if situations have arisen, or things have happened that clearly make the case for a review."
The country will discuss its findings with the companies to try and reach an agreement on decisions, he said.
Ghana's government is driving policies to derive more benefit from its commodities as it seeks to narrow its budget deficit and lower public debt. AngloGold Ashanti Ltd., Newmont Mining Corp. and Kinross Gold Corp. are among producers in the nation that also mines bauxite and diamonds and is the world's second-biggest cocoa grower. The country has earned almost nothing in dividends from its 10 percent stake in most mines since 2012, rendering the operations "virtually useless," Bawumia said.
His comments coincided with Mauritania rejecting a key permit for Kinross for the expansion of a project in that country, sending the gold miner's shares to the lowest in more than a year.
The vice president's comments "were quite unsettling and sent jitters -- people are not too sure what the government wants to do and that is worrying," said Sulemanu Koney, the chief executive officer of Ghana's Chamber of Mines, which met with the country's economic management team a few weeks ago.
"We thought we had opened up for dialogue and therefore this public statement ruffled us a bit -- companies are concerned about it," Koney said in an interview. "There is nothing wrong with the government trying to get more revenue, but what is important is to engage and try to understand the industry better before decisions are made."
The chamber is considering meeting with the government again, Koney said.
The contracts have a clause that allows either party to call for a review or amendments of some aspects, the deputy finance minister said.
"We are confident that when we make a strong case, it will be difficult for our counterparts to say they don't want to know," he said.
While mining and quarrying made up about 1 percent of gross domestic product last year, gold is the country's top export-revenue earning, bringing in 42 percent of the $13.8 billion reported in the fourth quarter, the Bank of Ghana said in a statement on its website.