`Invisible' Dental-Brace Maker Predicts Japan to Be Top 5 Market
(Bloomberg) -- Align Technology Inc., maker of the Invisalign clear teeth-straightener, sees burgeoning demand propelling Japan to become one of its top five markets by 2023.
"Smiles have never been more visible because of the whole selfie generation," Chief Executive Officer Joe Hogan said in an interview in Singapore. "I think it's an aesthetic in Japan, it's important."
Hogan is predicting annual sales growth of 25 percent to 35 percent in Japan over the period as more consumers embrace the use of teeth-straightening products. China, already Align's largest market after the U.S., is the only other Asian nation in the top five. The company, established in 1997, said in May that 5.5 million patients have used Invisalign to date.
Shares of Align have jumped more than fivefold in the past three years, spurred by a doubling in sales, and was among the best performers on the S&P 500 Index in 2017. None of the 15 analysts covering Align and tracked by Bloomberg recommend selling the stock.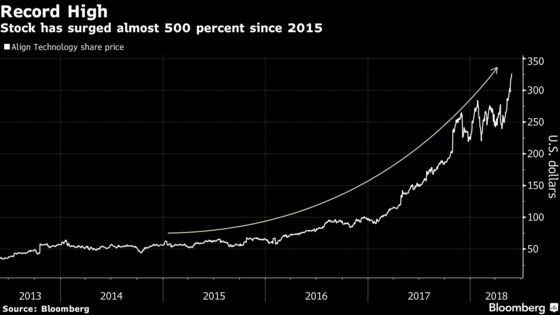 Other highlights from Hogan:
The company's factory in China, its first Asian manufacturing facility, will begin producing aligners from the fourth quarter and will meet most of the demand from the Asia-Pacific region
Align spends about $130 million on research and development every year, focusing on material science, software and manufacturing. It expects operating expenses of about $1 billion this year in areas such as engineering, branding and training of doctors.
While many of Align's important patents expired last year, it isn't too worried about competition, the CEO said in a Bloomberg Television interview with Yvonne Man and Ramy Inocencio. Align will benefit from greater demand as rivals "legitimize the space," more doctors are trained on using clear aligners, and consumers get used to such products
Align's operations will remain focused on aligners and scanners, Hogan said. The company also sells iTero, an intraoral scanner that creates a three-dimensional digital impression of a patient's teeth
Scanners are expected to drive more growth than aligners going forward and may contribute to 20 to 30 percent of revenue in the future, rising from 11 percent currently