$1-Billion Foreigner Buying Binge Seen for HDFC Bank Shares
(Bloomberg) -- HDFC Bank Ltd. may extend its record run as global funds rush to snap up shares of India's most-valuable lender before the regulator makes market structure changes, Macquarie Capital Securities (India) Pvt. said.
On Friday, India will introduce a new system monitoring foreign ownership limits in real time. But for the next month, global investors will also retain access to a facility -- set to be phased out on July 1 -- that allows them to trade shares among themselves when those limits have been reached.
Overseas funds may buy as much as $1 billion of HDFC Bank stock on Friday to take advantage of the increased ownership headroom due to the new tracking system, and their continued access to the old facility, Macquarie analysts Suresh Ganapathy, Nishant Shah and Akash Nainani wrote in a May 30 note.
The foreign-trading window was used by funds to trade in stocks, largely lenders, after nearing their ownership limit. Previously, the overseas holding in banks had to fall 2 percentage points below the 74 percent cap before fresh offshore investments would be allowed, according to the central bank's rules. Until then, offshore investors traded through the special window.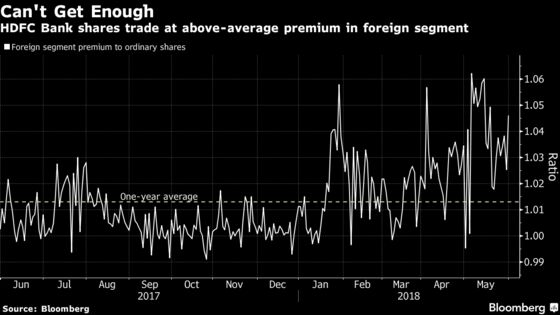 Trading in the foreign segment -- popularly called the "6 Lakh Series" -- often leads to a premium as stocks are to be bought from another overseas investor. For instance, HDFC Bank shares trading in the foreign segment jumped 6.5 percent to 2,223 rupees at 3:07 p.m. in Mumbai, versus a record 2,136 rupees for the ordinary shares.
The bank's American depositary receipts rallied 8.6 percent on Wednesday, the most since August 2011, as global funds will have only the ADR route to buy the stock after the window is disbanded in July.
Indian companies, except banks and certain sectors, are allowed to set foreign ownership limits for themselves, while the central bank restricts overseas holding in lenders.