Ross Backs Populist Push to Make America Great With Tariffs
(Bloomberg) -- President Donald Trump's unilateral tariff measures are necessary to fix a broken global trade system and the U.S., like other nations, should focus on its own interests, according to Commerce Secretary Wilbur Ross.
"Every country's primary obligation is to protect its own citizens and their livelihood," Ross said at an Organisation for Economic Cooperation and Development conference in Paris on Wednesday. "Maybe that's a populist saying but it's one we feel very strongly about."
Ross spoke shortly before a planned meeting with European Union Trade Commissioner Cecilia Malmstrom to discuss U.S. metals tariffs that are scheduled to hit the bloc on June 1. The EU has demanded a permanent and unconditional waiver from the steel and aluminum levies, which the U.S. imposed on the grounds of protecting national security.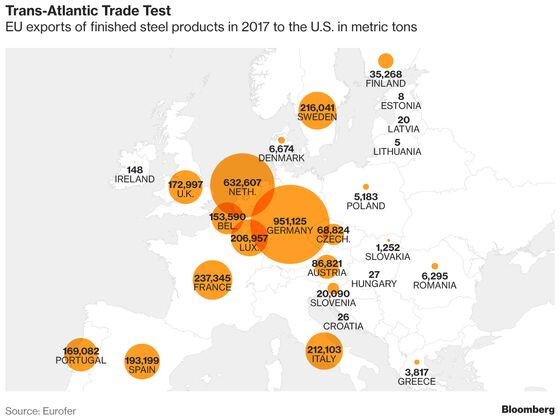 Ross criticized the EU decision not to discuss trade matters with the U.S. until the tariff dispute was resolved, or as French President Emmanuel Macron described it: "while there's a gun pointed at our head."
"There can be negotiations with or without tariffs in place -- God knows there are plenty of tariffs the EU has in place on us so it's not that you can't talk just because there are tariffs," Ross said. China, which had levies imposed on it in March, "has not used that as an excuse not to negotiate," Ross said. "It's only the EU that's insisting we can't negotiate if there are tariffs."
Malmstrom told the European Parliament in Strasbourg, France, on Tuesday that the bloc would likely face U.S. import quotas on steel and aluminum should the Trump administration opt against triggering the levies.
Macron, who called for reform of the World Trade Organization in a speech to the OECD, said that he is "always very hopeful", when asked about the June 1 deadline for the tariff exemption. "Some things depend on me, some others don't. So I do my best at what I can do."
If the U.S. levies take effect, the EU has threatened to complain to the World Trade Organization and impose a retaliatory tariff on 2.8 billion euros ($3.2 billion) of American goods imported into Europe as soon as June 20. Malmstrom said the details of the upcoming U.S. decision will determine the EU's response.
Ross, speaking about the global steel market, said: "The difference between the U.S. approach and many others is we feel a greater sense of urgency for reform than do many of the other countries." Their inaction is "one of the things that caused our country to take a kind of unilateral step and we think there is now resulting more consistency of approach."
Ross brushed off criticism that the tariffs were hitting industries in the U.S. with higher costs.
"The sky hasn't fallen in the U.S. since we put the tariffs on," Ross said. "It just hasn't fallen and it won't."