RBS CFO, Seen as Next Possible Chief, Unexpectedly Resigns
(Bloomberg) -- Royal Bank of Scotland Group Plc Chief Financial Officer Ewen Stevenson unexpectedly resigned to take up another unspecified opportunity, leaving the lender to scramble for his replacement.
Stevenson's departure leaves Alison Rose, RBS's most senior female banker, as the most likely internal successor to become chief executive officer. Stevenson, 52, who has been at RBS for about four years, was one of two internal candidates seen as a potential replacement for chief Ross McEwan, people with knowledge of the matter said this month.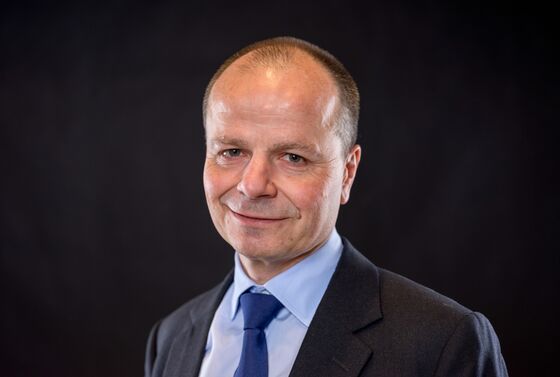 The CFO's exit is an "unexpected and material loss" for the bank, Investec analyst Ian Gordon said by email comments. He had "particularly strong credibility" with the market after his "commendable stewardship" of the bank during an unprecedented period of restructuring.
RBS is intensifying its search for a replacement to McEwan after the bank finally reached a deal to pay U.S. authorities $4.9 billion for misselling residential mortgage-backed securities more than a decade ago, according to people familiar with the matter. The settlement has removed some uncertainty overhanging the stock, though Stevenson's departure isn't ideal timing as the government prepares to reduce its stake of about 70 percent.
"The board and I are sorry to learn that Ewen has decided to move elsewhere," Chairman Howard Davies said in a statement on Wednesday. "He will go with our thanks for a job well done and our good wishes."
RBS traded down 0.6 percent to 278.4 pence at 8:25 a.m. in London trading. The Edinburgh-based bank is scheduled to hold its annual general meeting later today.
The agreement with U.S. authorities over the toxic securities makes it easier for the U.K. government to attract buyers for its stake in the lender and for RBS to resume paying shareholders a dividend. Stevenson would have played a key role in both.
"I'm not sure whether it's a problem," for RBS, said Rob James, a portfolio manager at Old Mutual Global Investors. "Pretty much all of the heavy lifting, including the fines, has now been settled, and it looks as if RBS is back on an even keel.
Like McEwan, Stevenson is a New Zealander. The two have worked closely to reverse pre-crisis CEO Fred Goodwin's aggressive global expansion, and thus would have ensured a smooth transition, according to headhunters. Stevenson joined the lender in 2014 after 25 years at Credit Suisse Group AG, where his last job was co-head of investment banking for Europe, the Middle East and Africa.
"For the past four years, Ewen has worked tirelessly with me and my executive team to make RBS a much simpler, safer and more customer-focused business and to resolve a number of major legacy challenges," McEwan said. "When Ewen leaves RBS, he will go with my enormous thanks and best wishes. He has been a fantastic CFO."