Polaris Makes an $805 Million Bet That You'll Buy a Boat
(Bloomberg) -- Polaris Industries, a corporate empire of motorcycles, all-terrain vehicles and snowmobiles, is adding some surf to its turf and snow. The company has agreed to buy Boat Holdings, an Indiana-based manufacturer of the kind of party cruisers you'd see bobbing along the Great Lakes, for $805 million in cash. 
Boat Holdings, a privately held bevy of nautical brands that include Godfrey, Hurricane and Rinker, will help Polaris balance the seasonality of its snowmobile business. For a company that makes expensive toys for middle-aged motorheads, bringing some boats onboard is a good fit, according to Polaris Chief Executive Officer Scott Wine. As it stands, roughly one-third of the people who own a Polaris machine—be it an Indian motorcycle or a three-wheeled Slingshot roadster—also own a boat.
"It just makes sense for us to be in the space," Wine said. "We like the brand, we like the product—and we like the price."
After 20 years in business, Boat Holdings is best known for pushing pontoon boats—aka party barges—into the luxury space. At the top of its product line sits the Bennington QX Series, a line of fiberglass pontoon vessels more suited for Lake Como than catfish grabbing.
Where once was astroturf and bolted lawn chairs, Bennington offers buttery leather recliners and teak. Options include an "underwater illumination" system ($954), refrigerated cupholders ($632), a Porta Potti ($115) and a "Helm Master" joystick for steering ($27,696). Fully kitted out, the price tag on a 27-foot QX crests $250,000.
"It's not your grandmother's pontoon boat," Wine said. Unsurprisingly, many of the opulent models at Boat Holdings are built to order, another feature Polaris said it likes about the business. Most of the year, the boatmaker's working capital is negative. Last year, the QX line helped nudge the company's revenue to $560 million, while profit before interest, taxes, depreciation and amortization hit $74 million.
In terms of units, the U.S. boat market still hasn't fully recovered from the Great Recession. Last year, Americans bought just 262,000 recreational vessels, 36 percent below the high water mark of 2005, according to the National Marine Manufacturers Association. Spending, however, is spiking as swankier, more expensive vessels hit the water.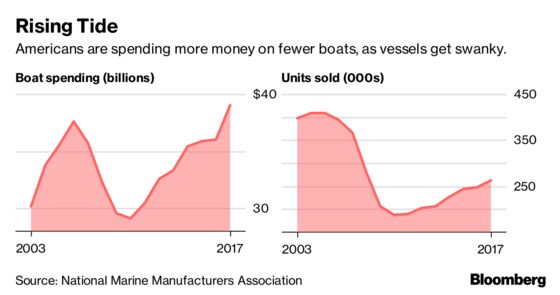 The worry for Boat Holdings—and anyone else in the boat business—is the next recession. Polaris, which competes almost exclusively for discretionary consumer spending, is familiar with that concern. Demand for such things as pontoon cruisers and $25,000 motorcycles tends to dip more drastically in an economic slowdown than for consumer staples, or even pickup trucks, for that matter.
But at just 1.4 times annual sales, the tie-up values Boat Holdings much lower than such publicly traded rivals as Malibu Boats Inc. and MCBC Holdings Inc., which makes Mastercraft.
"Boating is a cyclical market," Wine said. "But we've looked at this deal closely, and we figure we can suffer a recession and come out of it just fine."