Nomura Seeks Dealmakers for Reboot of Principal Investment Arm
(Bloomberg) -- Nomura Holdings Inc. will hire more than a dozen people for a 100 billion yen ($920 million) foray into investing in Japanese companies that need reviving.
Japan's biggest brokerage plans to add about 15 positions for its newly established principal investment business within a year, doubling the number of employees in the team, said Masahiko Maekawa, chief executive officer at Nomura Capital Partners Co. It will scout professionals from buyout funds, consulting firms and trading houses to originate deals over 10 years, he said in an interview.
Nomura unveiled plans last November to resume investing its own money in companies that have potential for revamping, with an emphasis on smaller firms whose aging owners are struggling with succession issues. The brokerage is regaining an appetite for risk after closing its previous principal investment business when its 2008 purchase of Lehman Brothers Holdings Inc. led to massive losses and put a strain on capital.
Maekawa, 54, is counting on the initiative to not only reap returns but also lead to further business down the line, both in investment banking and wealth management. "There could be a huge knock-on effect for our retail business," he said.
Private equity investment is booming in Japan as companies embrace buyout firms as a tool for change and the government pushes for better governance. The nation's aging population is also providing opportunities for financial firms that can find ways to keep businesses alive when their owners die.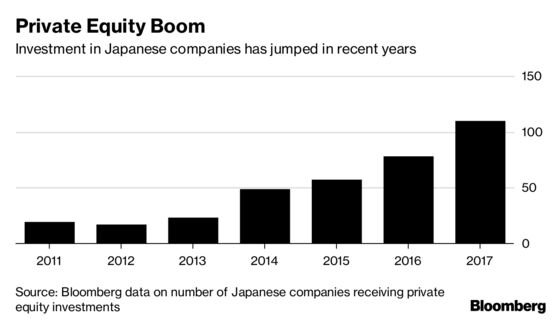 Maekawa said he'll pay "competitive salaries" to attract the best dealmakers. "It will be extremely difficult to find a person who can manage a deal from origination to exit."
Nomura will buy majority stakes in the companies and spend about six years revitalizing them before seeking to recoup the investments in the ensuing four years, he said, adding that it's also considering co-investing with foreign private equity funds.
The Tokyo-based bank is seeking returns of about 20 percent, Maekawa said. The last time around, from 2000 to 2008, it made a 25 percent internal rate of return on the 280 billion yen pumped into 18 firms including restaurant chain Skylark Co.
Maekawa sees an opportunity to raise fees from mergers advisory and underwriting when the firm exits the investments through initial public offerings or sales. On the wealth side, he expects the business owners to ask Nomura to manage their money after completing the deals.
The senior managing director plans to tap the bank's network of 156 retail outlets to identify companies around the country that are ripe for investment. At a gathering of branch chiefs in Tokyo last week, he encouraged them to help generate deals.
"I told the regional managers to go out for drinks with family business titans to hear their distress and think about solutions," Maekawa said.