Muted Fallout From Dick's Gun Stance Led to `Surprise Icing'
(Bloomberg) -- Dick's Sporting Goods Inc.'s decision to end sales of assault-style rifles in February left management worried there may be pushback. They may have fewer concerns after Wednesday's earnings report.
While the shift hurt results at the retailer's already-ailing hunting business, the tough gun stance didn't cause as much damage as investors anticipated. Dick's posted a beat-and-raise quarter, sending the stock up the most since going public in 2002.
"I think that was surprise icing," Susquehanna analyst Sam Poser said in a phone interview. He's among the nine analysts who carry the equivalent of a buy rating on the stock, according to data compiled by Bloomberg. "The cake was they're running the business well, consumers are going there and the e-commerce business is good."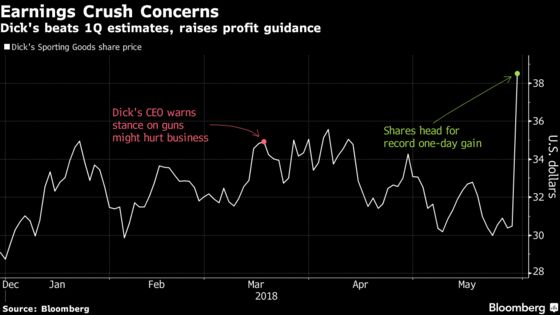 Chief Executive Officer Edward Stack said there's been positive effects from the new policy, which also set a minimum age of 21 for other firearm purchases and halted the sale of high-capacity magazines.
"There's been a number of people who have started shopping us or said they're going to shop us more because of the policy," Stack said in Wednesday's conference call. "So I guess overall I would say there's definitely been some benefit of people who have joined us, so to speak, because of the policy."
The Coraopolis, Pennsylvania-based company isn't the only retailer that has taken a stance on the sale of firearms. Walmart Inc. joined Dick's in February in raising the gun sale age to 21 and Kroger Co. announced plans in March to phase out the sales of firearms and ammunition in its Fred Meyer chain.