Bank Indonesia's New Governor Stamps His Mark With Rate Hike
(Bloomberg) -- Indonesia's new central bank chief raised interest rates at an early policy meeting on Wednesday, moving swiftly to counter an emerging-market selloff that's shaken the nation's currency and bonds.
Less than a week in office, Governor Perry Warjiyo led the board in increasing the seven-day reverse repurchase rate by 25 basis points to 4.75 percent, in line with almost all of the forecasts from 26 economists surveyed by Bloomberg. He flagged further rate increases, depending on how domestic and global developments play out and how aggressive the Federal Reserve is in tightening policy.
Global emerging markets are in a tailspin as rising U.S. interest rates and a stronger dollar prompt investors to pull money out of riskier assets. From Argentina to Indonesia, central bankers are grappling with sliding currencies and capital outflows, pushing them to take stronger action to avoid full-blown crises.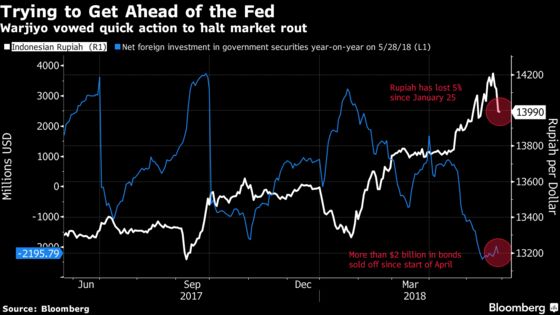 Since taking office on May 24, Warjiyo has pledged to be "pre-emptive" and use monetary policy to stabilize the exchange rate. The governor said Wednesday the rate hike -- at an out-of-cycle meeting that comes a month before the regular scheduled one -- was a bid to act before the Fed's expected tightening in June and to help bolster the currency.
"Bank Indonesia will continue to calibrate developments, domestic and global, to make use of available space for higher rates in a measured way," Warjiyo said, adding the central bank would continue dual intervention in markets to support the currency.
The rupiah is among the worst performers in Asia this year, dropping 5 percent against the dollar since the selloff began toward the end of January, while yields on 10-year government bonds have surged almost 100 basis points.
The currency ended little changed at 13,990 against the dollar in Jakarta on Wednesday.
"Bank Indonesia was as hawkish as it was two weeks ago when they hiked so that tells me it is leaving the door wide open for more tightening," said Euben Paracuelles, an economist at Nomura Holdings Inc. in Singapore. "That said, they reiterated 'measured' adjustments so it doesn't look like they will hike again in a rush unless the external backdrop deteriorates."
For a net oil importer like Indonesia, rising crude prices and a weaker currency threatens to stoke inflation -- which is subdued for now at 3.4 percent -- and widen a trade deficit that's already at its widest in four years. The trade gap makes the economy more reliant on foreign inflows to fund import needs and is one of the reasons why Indonesia has been targeted by investors in the current emerging-market rout.
Overseas investors also hold a relatively high share of Indonesian government bonds at about 38 percent, making it more vulnerable to global selloffs.
Indonesia is still faring better than other emerging markets like Turkey and Argentina. Turkey raised interest rates by 300 basis points at an emergency meeting last week, while Argentina increased interest rates three times in the past month.
"The 25 basis-point hike will be welcomed by investors as Bank Indonesia reiterates its mandate for rupiah stability," said Eugene Leow, a fixed-income strategist at DBS Group Holdings Ltd. in Singapore. "Unfortunately, higher rates appear to be necessary as the global environment becomes less conducive for risk taking."
Policy makers in Asia are also under pressure. The Philippine central bank increased its benchmark rate in May and said it's prepared to take more action if needed, while economists have brought forward their calls for a rate hike in India.
The central bank is also preparing to ease macro-prudential measures to spur lending and help offset higher rates. It's also looking at measures aimed at deepening the financial market. Warjiyo, who has pledged to stabilize the currency as well as support growth, said the economy will probably expand 5.2 percent this year.
"This interest rate hike won't necessarily lead to lower economic growth," he said.