Blackstone, Solus Settle Fight Over Hovnanian CDS Trade
(Bloomberg) -- Blackstone Group's GSO Capital Partners and Solus Alternative Asset Management resolved a dispute over a financing plan for Hovnanian Enterprises Inc., ending an argument that had roiled the credit derivatives market.
The fight stemmed from GSO's agreement last year to lend money to the troubled homebuilder. As part of that deal, Hovnanian agreed to default on a chunk of its debt, a step that allowed GSO to profit from a separate credit derivatives trade. The money manager's gains from credit derivatives allowed it to offer the builder relatively cheap financing.
These kinds of transactions aren't new, but have been growing more popular in recent months, to the chagrin of some money managers who view the deals as market manipulation. Solus in January sued Hovnanian and GSO, accusing them of manufacturing a default. A group of hedge funds has banded together to close what they see as the loopholes that allow these transactions to happen, an effort that even GSO said it would support.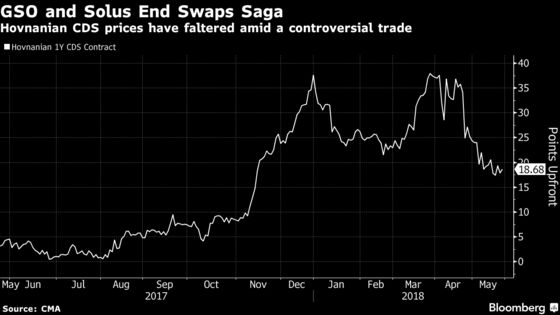 Some regulators were alarmed too. The Commodity Futures Trading Commission said in April that it is looking at whether these kinds of deals amount to market manipulation.
The settlement announced Wednesday doesn't resolve the bigger concerns about creative financing, but does end the Hovnanian dispute. Solus has agreed to dismiss its lawsuit, and both it and Blackstone said in separate statements that they were pleased to have resolved the matter. Solus said it was looking forward to working with industry participants to enhance the integrity of the credit derivatives market.
"We are pleased that Hovnanian CDS will now reflect the actual creditworthiness of the company," said Chris Pucillo, chief executive officer of Solus.
The creative financing transactions that funds and companies have discussed don't always involve a manufactured default. Hedge fund Chatham Asset Management lent to newspaper chain McClatchy Co. in a way that market participants believe was designed to give a big payout to derivatives traders betting that the parent company would keep paying its obligations.
Many funds fear that whether borrowers default or not, the financings are creating an unacceptable wild card in a market designed to assess how likely companies are to stay afloat. A credit derivatives contract is essentially insurance against a borrower defaulting on its debt within a particular period of time. The contracts can become almost meaningless if a fund can create or prevent a payout on the contracts just by loaning relatively small amounts of money to a company.
Hovnanian had missed an interest payment at the beginning of May as part of its deal with GSO. The homebuilder said in a filing on Wednesday that it had made the interest payment it had missed, which was on $26 million of notes that a company affiliate owned. It did not make any settlement payments as part of the agreement, and gets to retain the financing it agreed to with GSO.
In a separate statement, the homebuilder said it remains confident it acted properly at all times with respect to its financing, and that it appreciated its long-time relationship with GSO, which has provided it with funding in the past. In 2012 for example, the fund manager agreed to buy a group of housing development sites from Hovnanian and sell them back to the company over time.
Goldman Sachs Group Inc., like Solus, had also sold credit default protection linked to Hovnanian, amounting to a bet the builder wouldn't default before the contracts expired. The bank dumped most of that position earlier this month, with a big chunk being bought by GSO.