Gazprom Profit Jumps After Gas Shipments to Europe Surge
(Bloomberg) -- Gazprom PJSC's profit jumped to the highest in three years as natural gas sales to Europe surged.
Unexpectedly cold weather from Germany to the U.K. boosted Russia's gas sales into the region by 8 percent in the first three months of the year. That along with stronger prices helped lift income for the nation's gas-pipeline monopoly.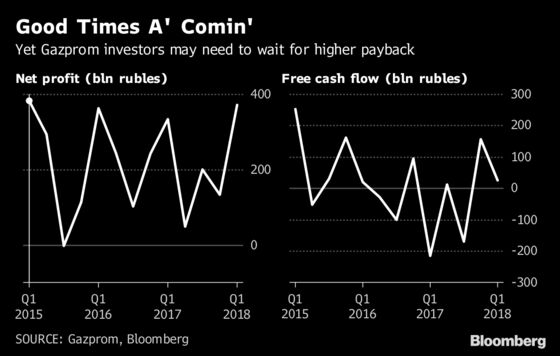 The results may raise pressure on Gazprom's management to increase its dividend payout, something the company has resisted as it's boosting investment in projects that will expand its reach deeper into Europe and Asia. Gazprom is sponsoring the Nord Stream 2 link that will funnel gas into Germany underneath the Baltic Sea, bypassing political hot spots along the main existing transport route through Ukraine.
"Gazprom may show really exceptional results this year, backed by exports to Europe, yet that wouldn't necessarily mean an extra gain to its shareholders," said Andrey Polischuk, an energy analyst at Raiffeisen Centrobank in Moscow. "Given its investment plan and a need to repay debts and cover interest payments, there won't be enough cash to provide a long-awaited dividend increase, which people have been discussing from the year dot."
Revenue in the first quarter reached a record, boosting net income 11 percent and returning Gazprom to positive free cash flow. Its shares gained as much as 0.6 percent in Moscow trading on a day when its rivals in Russia slipped along with oil prices.
Gazprom's net income climbed to 372 billion rubles ($5.93 billion) in the first quarter from 333 billion a year ago, with revenue reaching a record 2.14 trillion rubles, according its statement Wednesday. The average estimate of 6 analysts surveyed by Bloomberg Data was for a profit of 349 billion rubles.
Free cash flow, which analysts monitor as a source of money for dividends, rose to 26 billion rubles from a negative 216 billion rubles a year earlier.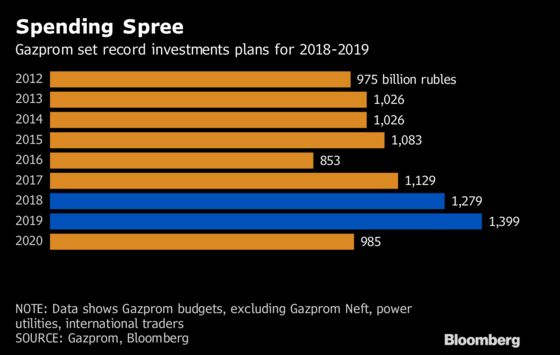 As Gazprom aims to beat last year's record shipments to Europe, it has said there's no need for a major change in the dividend level until about 2020 when the company passes the peak in its investment program.
Gazprom raised its estimate for an investment plan of the parent company and its key units for this year to 2.01 trillion rubles from 1.98 trillion disclosed in April, according to the statement.
The company may face a decline in consumption later this year as higher prices encourage customers to find alternative sources of supply, like liquefied natural gas.
Higher gas prices may damp demand in Europe "a bit," according to Gazprom's biggest export client, Uniper AG. Kommersant newspaper reported that Gazprom data shows EU power generators cut consumption in the first quarter when utilities enjoyed ample output from wind and hydro plants.
Gazprom will hold a conference call at 5 p.m. Moscow time on Wednesday to comment on the results and its outlook.