Brazil's Recovery Threatened by Strike And Domestic Turmoil
(Bloomberg) -- Family consumption and lower interest rates supported a faint recovery of the Brazilian economy in the first quarter, even as strikes and political uncertainty weigh on the outlook for the year.
Gross domestic product expanded 0.4 percent from the previous three-month period, slightly above the median 0.3 percent estimate from 39 economists surveyed by Bloomberg. GDP rose 1.2 percent versus the same quarter of 2017, the national statistics institute said Wednesday. The institute also slightly revised upward data from the third and fourth quarters of 2017.
Latin America's largest economy has been struggling to gain momentum since it emerged from recession a year ago. While the data shows the recovery had more traction in the beginning of the year, a paralyzing trucker strike will weigh on growth this year. With unemployment in the double digits, it's unclear whether the economic recovery will boost the chances of a government-backed candidate in the October presidential election.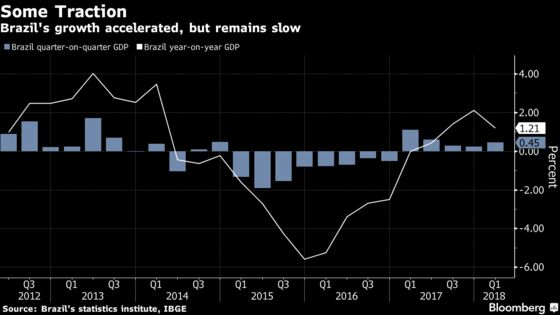 Consumer spending, which accounts for almost two-thirds of demand, rose 0.5 percent in the first quarter. Consumption was supported by a monetary easing campaign that has driven the benchmark interest rate to an all-time low.
"It's less bad than expected, but I think it's difficult to celebrate the result," said Jankiel Santos, chief economist at Haitong in Sao Paulo. "Domestic demand was slightly better than expected, primarily with the participation of investments above what we imagined."
Investment rose 0.6 percent in the first quarter, its fourth straight increase, according to the statistics institute. However, net trade has become "a significant drag on the economy," said Neil Shearing, chief emerging-markets economist at Capital Economics, citing growth of imports exceeding that of exports for three straight quarters.
Brazil's Economy Haunted by Past of 'Chicken Flight' Recoveries
While the data allayed concerns that the recovery could have hit a wall, it confirmed the economy is growing slowly at a moment when downside risks abound, with domestic uncertainty ahead of the elections and a more adverse scenario for emerging economies in general.
"More than half of growth in the quarter came from accumulation of inventories," Alberto Ramos, chief Latin America economist for Goldman Sachs, said by phone. "This shows demand grew at a slower pace than supply and this doesn't bode well for growth in coming quarters."
Adding to the poor growth outlook is a truckers' strike that started ten days ago, halting deliveries and blocking roads to protest higher diesel prices. Oil industry workers also announced they would stop work on Wednesday.
Even before the protests disrupted supply chains, economists surveyed by the central bank had already lowered their 2018 GDP forecast to 2.5 percent, 0.4 percentage points lower than four months earlier. Direct impact from the stoppage is leading Alfredo Coutino, Latin America director for Moody's Analytics, to lower his 2018 growth forecast to 2 percent. Knock-on effects could drag it even lower, he said.
"This uncertainty and volatility facing the country will have an impact on investor decisions and also consumer decisions," Coutino said before release of the data, adding that delayed investments would exacerbate an existing problem. "There has been a recovery in the Brazilian economy, but investment continues to be insufficient to sustain a prolonged recovery."
Silvia Matos, chief economist at the Getulio Vargas Foundation's economics institute, said she is lowering her 2018 GDP forecast to between 1.8 percent and 1.9 percent, from 2.3 percent, largely due to the strike and general loss of confidence. Goldman's Ramos cut his forecast to 2 percent, from 2.3 percent, "with risk skewed to the downside."