Enel Ends Up on Top in Bid War for $2 Billion Brazil Utility
(Bloomberg) -- Italian power giant Enel SpA won a highly contested multibillion-dollar battle for AES Corp.'s Brazilian utility in a move that will more than double its presence in the country's electricity distribution market.
Enel's 45.22 reais-a-share ($12.14) offer for Eletropaulo SA topped a final one by leading rival Iberdrola SA of Spain in sealed bids opened late Wednesday on the Sao Paulo stock exchange. Enel already has three distribution companies in Rio de Janeiro, Ceara and Goias states, delivering power to millions of clients. The offer values the company at $2.03 billion based on 167.3 million shares outstanding.
The bidding war turned Eletropaulo, which serves one of the largest consumer markets in Brazil, into one of the most sought-after electric utilities in Latin America. The monthslong saga began with an April 5 offer from local company Energisa SA and ended after more than a half-dozen counteroffers were made, setting the stage for a heated, final battle between Enel and Iberdrola.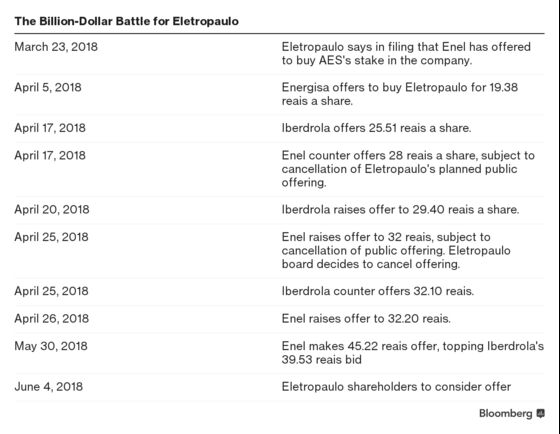 Enel's winning bid was an "eye-watering" 77 percent higher than Iberdrola's opening bid in mid-April and "comes to show how first bids aren't always the best ones," Maurice Choy, an analyst at RBC Markets Europe Ltd., said in an emailed report Thursday. "Good assets tend to attract strong competition."
In addition to the per-share offer, Enel reiterated plans for a 1.5 billion-real capital injection in Eletropaulo in a statement from Rome on Thursday.
Eletropaulo and AES declined to comment. Iberdrola's Neoenergia unit said in a statement that it would continue to track opportunities for expansion in Brazil. The company's rivalry with Enel over Eletropaulo escalated into a political war both in Latin America and at home in Europe.
At one point, Enel released a letter to Brazilian newspapers, complaining about a deal that would give preference to Iberdrola in a share offering that was later canceled by Eletropaulo. Iberdrola went to the European Commission, alleging that Enel was using its status as a government-controlled utility to gain a competitive advantage. Energisa revoked its offer for Eletropaulo May 4.
Shareholders will weigh Enel's bid on June 4. Each must individually decide whether to take the offer. A majority must for the deal to happen. Before the sealed bids were opened, Eletropaulo indicated in a regulatory filing that its board supported Enel's proposal, which was the highest offer available May 28.
Shares of Eletropaulo rose about 3 percent to 35 reais on Wednesday. They have gained 82 percent since April 5, the day of the Energisa bid. Brazilian financial markets were closed Thursday for a holiday.
Enel shares fell 1 percent Thursday amid volatile trading in Italian stocks because of a political crisis that has rocked global markets. Italy's FTSE MIB index dropped less than 0.1 percent.