Fight Erupts Over Coal Ban at Norway's $1 Trillion Wealth Fund
(Bloomberg) -- Norway's $1 trillion wealth fund could face stricter limits on coal investments down the road, but a previously united push by the opposition to make it happen is showing cracks.
The opposition, led by the Labor Party, on Thursday instructed the minority government to review the restrictions on coal and consider a further tightening. Yet that fell short of earlier calls by Norway's biggest political party to close loopholes that have allowed the fund to remain invested in companies with large coal or coal-related operations.
The Socialist Left Party said it was pleased there will be a review, but lashed out at its opposition partner's back-pedaling.
"We should already have put in place a significant tightening of the criteria since we, for example, can see that the fund is invested in companies that are building coal power plants," said Kari Elisabeth Kaski, a member of the committee for the Socialist Left. "Labor is running away from its earlier promises of a fund without coal."
Labor led the opposition in 2015 to force the government into a compromise and get the wealth fund to divest some coal companies. The current rule bans investments in miners or utilities that rely on coal for more than 30 percent of their activity or income, leading to the exclusion of 69 companies.
In a recent report, environmental groups Greenpeace and Urgewald estimated that the fund still has investments of 16 billion kroner ($2 billion) in companies that should have been excluded under the current criteria. If Norway introduced an absolute limit of 20 million tons of coal production or consumption, following other investors, another 49 billion kroner in investments would be affected, according to the report.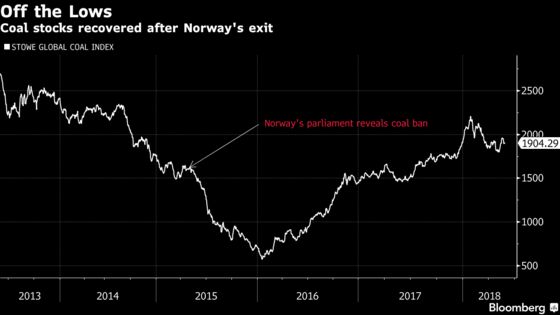 Back in 2016, Labor vowed to "close all loopholes" that allowed the fund to remain invested in companies whose coal-related activities made up less than 30 percent, but were still large on a global scale. The biggest opposition party also said at the time that the ban should cover subsidiaries and possibly be extended to coal transportation and oil sands production.
Labor lawmaker Svein Roald Hansen in an interview on Wednesday contested that the party has "taken a step back," but conceded that expanding the criteria could be challenging.
"The risk is that it quite simply gets hard to implement," he said. "We're invested in companies that have their tentacles all over the place. It's not easy being rich and staying away from everything that's not so good."
Labor also won't express its view yet on whether to divest oil and gas stocks, something the fund itself proposed last year and the government has said it will come back to in the second half of this year.
"It sounds reasonable but we can't rule out that the government will come with some good arguments to make us think twice," he said.
The committee on Thursday gave the go-ahead for the fund to invest in renewable energy infrastructure and asked the government to come up a with a proposal for next year, including potentially expanding the environmental mandate.
The fund is mandated to keep 30 to 60 billion kroner in environment-related investments. It exceed that at the end of 2017, with 67.8 billion kroner invested in the stocks of 206 companies and 7.1 billion kroner invested in green bonds.
The mandate will need to be increased "significantly," Hansen said.
Labor is in favor, but it will need to be developed gradually, he said. "It's not like we just throw a large part of the fund into new investments. Everyone understands this."