Bank of Montreal, Last in Efficiency, Spends to Save More
(Bloomberg) -- Bank of Montreal, seeking to turn around the worst productivity among major Canadian lenders, is having to spend more to save money in the long run.
The Toronto-based bank recorded a C$192 million ($148 million) restructuring charge in the second quarter, mostly to cover severance payments. The firm reported an efficiency ratio -- a measure of what it costs to produce a dollar of revenue -- of 63.4 percent for the period ended April 30, its highest in two years. Excluding the restructuring cost and other adjustments, the ratio was 61.8 percent, the best in five quarters.
"We have been focused on moving our efficiency ratio down," Chief Financial Officer Tom Flynn said Wednesday in a phone interview, adding that most of the jobs cuts are behind-the-scene positions.
The efficiency erosion came even as the lender posted profit that beat analysts' expectations. Chief Executive Officer Darryl White vowed at last month's annual investor meeting to speed up efficiency improvements by simplifying the bank's structure, calling it a "top priority." In a statement reporting earnings Wednesday, White said the firm's "technology and innovation agenda" would support shareholder value.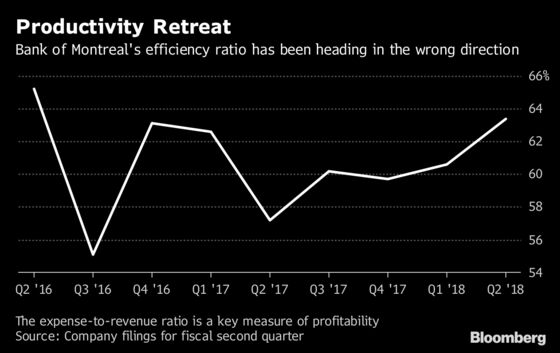 Net income for the quarter was unchanged from a year earlier at C$1.25 billion, or C$1.86 a share, according to the statement. Excluding the restructuring charge and other one-time items, profit was C$2.20 a share, topping the C$2.12 average estimate of 14 analysts surveyed by Bloomberg. The company raised its dividend 3.2 percent to 96 cents a share.
Earlier Wednesday, National Bank of Canada reported a 13 percent jump in second-quarter net income to C$547 million, with adjusted per-share results of C$1.45 a share beating the C$1.39 average estimate of 13 analysts. The Montreal-based bank raised its quarterly dividend 3.3 percent to 62 cents a share, and said it plans to buy back as many as 8 million shares, or about 2.4 percent of its outstanding stock, in the next year.
Bank of Montreal shares slipped 0.6 percent to C$99.59 at 10:17 a.m. in Toronto and National Bank fell 0.4 percent to C$61.38.
Here's a look at key numbers from Bank of Montreal's second-quarter results:
Revenue fell 2.2 percent to C$5.62 billion and non-interest expenses jumped 8.5 percent to C$3.56 billion.
Canadian banking earnings climbed 11 percent to C$590 million, the highest in five quarters.
Profit from U.S. personal-and-commercial banking increased 52 percent to a record $272 million in U.S. currency.
Wealth management, which includes insurance, posted earnings of C$296 million, up 17 percent from a year earlier.
Capital markets profit fell 8 percent to C$286 million as investment-banking fees declined.