Singapore's Fintech Ambitions Bump Up Against Immigration Curbs
(Bloomberg) -- Singapore's goal of becoming a high-tech financial hub is running into real-world problems of labor supply and demand.
Technology startups in many countries are fighting to attract skilled workers like software engineers. Yet in the tiny city-state of Singapore, with a population of 5.6 million, the dearth of talent is particularly acute. The nation's universities and polytechnic schools churn out what the government estimates are 400 graduates a year with the right qualifications, well short of plans to add 1,000 financial tech jobs annually, according to the Singapore Fintech Association.
As a small, open economy Singapore relies on foreign talent to help meet its skills needs. Yet a gradual tightening of immigration rules in recent years is putting pressure on a labor market that's already feeling the crunch. The number of employment passes -- which are granted to foreign professionals in jobs that pay at least S$3,600 ($2,679) a month -- declined last year for the first time in at least five years.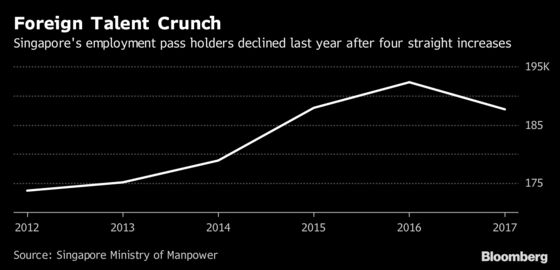 Official data puts demand for technology jobs in financial services at more than 26,200 in 2016, a record high. Surveys by the Singapore Fintech Association back up the view of a skills crunch, with 47 percent of members citing insufficient talent in the country. Data scientists, blockchain developers and computer programmers are most in demand.
The government says it's trying to strike a balance between an approach that protects local jobs and labor rules that give flexibility to employers in industries where skills shortages are most severe.
It has specific initiatives to ease the talent crunch in those sectors, such as the capability transfer program, where companies can seek funding of salaries for foreign specialists. Still, more could be done, said Chia Hock Lai, president of the Singapore Fintech Association.
"It would be great if the government can consider experimental schemes," including a one-year employment pass for technology workers who are vetted by industry associations, "in order to address the immediate talent shortage gap," he said.
"This would be a balanced approach to protect jobs for locals, which should always be a priority, while still allowing Singapore to capture emerging global opportunities in the area of fintech and blockchain," he said.
Ravi Menon, managing director of the Monetary Authority of Singapore, who is spearheading the nation's fintech efforts, said the talent crunch is a global problem and the biggest challenge for the city state's burgeoning industry. The central bank is building capacity in the industry through upskilling programs, but that's not enough.
"We have to admit and acknowledge that there are some talents or skill sets we just don't have and we have to remain open to foreign talent," Menon said at a fintech event in May.
Singapore tightened immigration policy following the 2011 elections, when residents voiced worries that an influx of foreign workers in the past decade had strained services, driven up competition in the property market and threatened the jobs of native-born workers.
A rapidly aging population has coincided with a slowdown in productivity, and though the government is taking steps through automation and robotics to address that, economists say those moves aren't going to be enough.
"A more open immigration policy is absolutely necessary to make good the government's 2-3 percent real GDP growth target over the next decade and to sustain Singapore's economic dynamism," Mohamed Faiz Nagutha, an economist at Bank of America Merrill Lynch, said in a research note.
Kuldeep Singh knows the challenge well. As chief executive officer of Singapore-based Biofourmis, a health tech startup that helps doctors and nurses monitor patients remotely via wearable devices, Singh is trying to boost his Singapore staff to 40-45 workers from 22 by the end of 2018 in a race to catch up with investor appetite.
While Singh said he appreciates the government's support of his work and universities' efforts to train in his field, he's running up against a system that emphasizes the need to hire locally.
"Hiring in Singapore has always been a challenge -- specifically when we start becoming very picky on what the skill set needs to be," he said. Biofourmis so far has "maintained a good blend" of foreign and domestic workers, though finding the right people recently has meant looking beyond these borders, Singh said.
Finance Minister Heng Swee Keat said last month that restrictions on foreign worker hiring will remain in place for now, though there's room for changes in the longer term. Heng was responding to company complaints about a shortage of workers, particularly in high-skilled sectors including cyber security, artificial intelligence and data analytics.
"Immigrants are part and parcel of our history and our identity," Prime Minister Lee Hsien Loong said on May 16 to Parliament. "And if you look ahead, we need a steady flow of immigrants, not too many, not too few, just right to top up our population."