Pret A Manger Overshadowed by Starbucks But It Sees Growth Ahead
(Bloomberg) -- If you're grabbing your morning coffee at a U.S. Pret A Manger, odds are good you're in New York.
The restaurant chain, which JAB Holding Co. agreed to buy on Tuesday, has fewer than 100 American locations -- a fraction of the 14,000 U.S. cafes operated by larger rival Starbucks Corp. More than half of U.S. Pret stores are in the New York region, with major urban areas including Chicago, Boston and Washington housing most of the rest.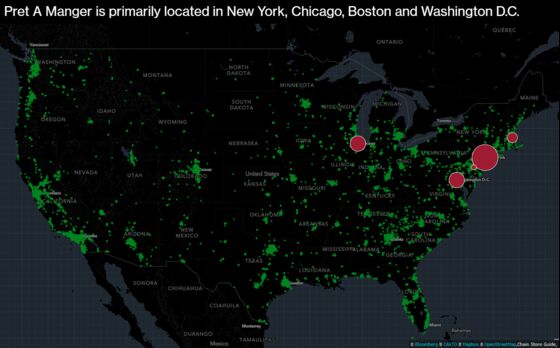 But while Pret isn't a major U.S. brand -- more than 70 percent of its 530 shops are in the U.K. -- its American sales are growing quickly, climbing nearly 19 percent last year, compared with U.S. growth of 7 percent for Starbucks, according to researcher Technomic. Like Starbucks, Pret sells coffee, sandwiches and salads, along with some breakfast fare including yogurt and bagels -- and the new owners plan to continue to grow.
"We will continue to focus on growing the business one shop at a time," Pret said in an email. "JAB Holding is committed to maintaining Pret as a standalone company and they fully buy into Pret's values and support our growth plans around the world."
JAB is encroaching on Starbucks' territory with a flurry of other restaurant acquisitions as well, including Panera Bread, Au Bon Pain, Krispy Kreme Doughnuts and Peet's Coffee. JAB, backed by the billionaire Reimann family, is buying Pret from private equity firm Bridgepoint Advisers Ltd. It will pay about 1.5 billion pounds ($2 billion), including net debt,, according to a person familiar with the matter.