Obesity-Made Fatty Liver Drives Midcap Race for Wonder Drug
(Bloomberg) -- The race is on to identify the wonder drug that will treat an increasingly common consequence of obesity: the fatty liver disease known as nonalcoholic steatohepatitis, or NASH.
Madrigal Pharmaceuticals Inc. is expected to report results from a mid-stage study in NASH by Thursday. The drug developer is racing against peers like Intercept Pharmaceuticals Inc. to get its experimental therapy known as MGL-3196 to the market.
Once closely-held, Madrigal became a public company after combining forces with oncology company Synta Pharmaceuticals Corp. in 2016, following the failure of Synta's lead cancer-fighting drug. Madrigal has more than doubled since Dec. 5 when the company reported initial results from the MGL-3196 study.
The study met its main goals in results recorded using magnetic resonance imaging-estimated proton density fat fraction, or MRI-PDFF, at the the three-month mark. Now investors await biopsy results from patients treated for over eight months.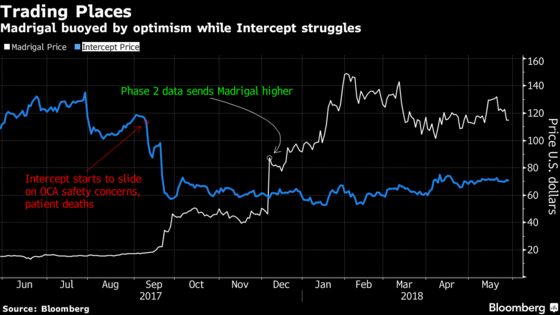 If Madrigal's results are good, the small-cap company could get snapped up by a large-cap pharmaceutical peer like Gilead Sciences Inc., the Street has suggested. While Intercept is in the lead among NASH peers as its Ocaliva is already in late-stage testing, safety concerns have tamped down shares as investors await those results -- they aren't expected until next year. Madrigal's drug has so far not raised any red flags on safety.
Just what are investors looking for? Cowen analyst Ritu Baral says a two-point change in what is known as a NAS score, as well as a "strong trend" in NASH resolution and a "directional improvement" in fibrosis may be a good outcome. If all three criteria are met, this may imply Madrigal's drug can succeed in late-stage testing in NASH.
Recent results from closely-held peer NGM Bio "might have encouraged misplaced expectations For '3196 in fibrosis," Baral wrote in a note to clients. She doesn't see 36 weeks as a long enough time for Madrigal's treatment to show a statistically significant improvement.
Madrigal has a 50/50 shot at showing a significant change in fibrosis, according to RBC analyst Brian Abrahams. If that happens, he expects Intercept shares may slip about five percent; if Madrigal's drug fails on fibrosis, Intercept shares may jump 10 percent.
Aside from Intercept, Viking Therapeutics is another peer that may move off of Madrigal's data: its VK-2809 works similarly to MGL-3196 and investors may see implications for Viking's development path.