Nordea Says MiFID II to Exacerbate Slump in Analyst Coverage
(Bloomberg) -- The biggest bank in the Nordic region says Europe's revision of market rules is likely to exacerbate a slump in the number of analysts covering smaller companies, making it harder for them to raise capital.
Nordea Bank AB says the firms affected by the development should consider commissioning their own research to help "alleviate the risk of falling off investors' radar screens entirely."
There are only about half as many equity analysts covering publicly traded European small and medium-sized firms now as there were before the 2008 financial crisis, Nordea estimates in a report published on Monday. The smallest firms -- those with market values of no more than 400 million euros ($466 million) -- have less than one analyst covering them, on average.
Revisions to Europe's Markets in Financial Instruments Directive, or MiFID II, were introduced in January to improve transparency. Part of the overhaul included requiring brokers to unbundle their services, in other words, investors are now charged separately for having their trades executed and for research.
According to Nordea, the revision is making it less profitable for brokerages to provide research on smaller companies. The bank has set itself the goal of becoming the biggest provider of paid company analysis in the Nordics and already has a large pipeline of companies interested in the service, according to local media.
Bailey Says FCA Is Watching MiFID Research Payments Carefully
Nordea says that some listed companies risk ending up "with little or no analyst coverage." And without that coverage, "their shares will not be valued by fundamentals and instead be more at the mercy of retail investor flows or media reporting."
The upshot may well be that small companies see their cost of capital rise and find it harder to raise new equity, according to Nordea. There's also a risk such companies will find it harder to use equity-based incentive programs for their executives, the bank said.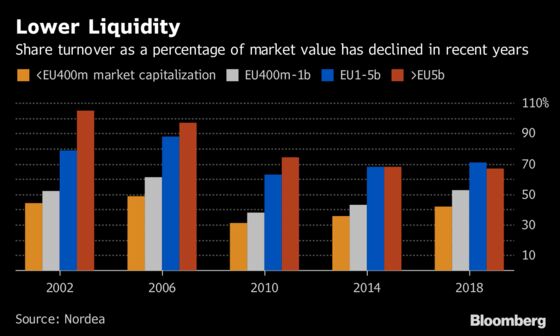 Turnover in Europe's equity markets is roughly the same as it was before the global financial crisis. But liquidity, expressed as turnover as a percentage of market capitalization, has dropped to 65 percent from 95 percent before 2008, Nordea said.
In the coming year, "the number of analysts covering listed small and midcap companies will keep decreasing," Johan Trocme, head of the Thematics unit at Nordea Research, said by phone. "We'll also see an increasing number of companies using paid analysis -- smaller listed companies especially will use this so that they don't end up in the periphery or even drop outside of the radar."