Ex-Barclays Euribor Trader `Lost a Lot' on First Trade
(Bloomberg) -- A former Barclays Plc manager was delighted when a junior trader "lost a lot of money" in her first market bet.
Sisse Bohart told a London court Tuesday that she thought she would be fired from her assistant trader's role on the money desk because of the error in which she lost 25,000 euros ($33,200). But she said Colin Bermingham, her manager, told her it was a learning experience that she would never forget.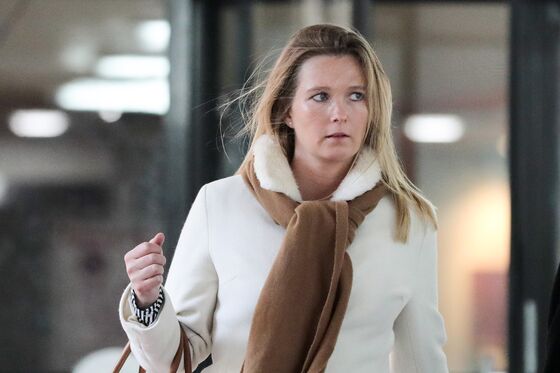 Bohart and Bermingham are among five traders from Barclays and Deutsche Bank AG on trial for allegations they rigged Euribor, or euro interbank offered rate, an interest rate benchmark linked to trillions of dollars worth of loans and derivatives. They all deny the allegations.
"I lost a lot of money," Bohart, 41, said during her first day of testimony. "I thought I was going to lose my job. I wouldn't say Colin was clapping his hands, but he was close to. He said it couldn't have been a better trade because I would learn a lot from it and I would remember it for the rest of my life."
Bohart joined Barclays' IT department in 2002 and later became a junior trader on the desk. There she was one of the team that made the bank's contributions to the Euribor rate every day. She learned everything from senior colleagues, chiefly by looking over Bermingham's shoulder.
"I had practically no knowledge of the market," Bohart said. The bank's senior managers "were fully aware of that."
Euribor was determined by using contributions from a group of banks. The rate is calculated by removing the highest and lowest 15 percent of submissions, then averaging the remaining figures to reach the final rates each day. Prosecutors say traders would pressure submitters to tweak the numbers to help bolster market positions.
Bohart said she only spent a few minutes on Euribor submissions, and said they were a minor part of her job. While she was told that she could accommodate another trader's request to submit a higher or lower value if it fit in with her plans, she couldn't remember individual instances.
She said her actions weren't at odds with her training on market manipulation and conflict of interest. She was never dishonest and never tried to defraud anyone, she said.
"I didn't think about the impact on the published rate," Bohart said. She also didn't consider whether it could affect a trader's profit or loss. In hindsight, she said, taking trader requests into consideration was wrong.
Bohart said she could be a furtive trader, preferring to deal in futures where she could move in and out of a position quickly. She referred to her trades as a "baby book" and had a 750,000-pound (about $1 million) target by the time she left to return to Denmark in May 2008.
"I found that I liked being in and out quickly, in a few hours," Bohart said. Her managers "absolutely weren't happy with me trading like that. They would've liked to have me take longer views."
It wasn't the only time her managers disapproved of Bohart's actions, she said. In November 2007, Bohart used the European Central Bank's borrowing line to square up a day's trades, before catching an afternoon flight, she said. The next week, Bermingham made her apologize to his boss, Mark Dearlove, and, in her opinion, marked her down in her next performance review because of it.
"If you had to use the borrowing facility, the stigma was that it could've been viewed as the bank having credit issues and no one would want to lend to the bank," Bohart said.
Bohart also said she was saddened by anonymous feedback from colleagues in a so-called 360 review. She described herself as being a direct person, even for a Scandinavian, and that it meant she sometimes struggled to integrate with her English peers.
"I remember feeling a bit sad when I got it initially," Bohart said. "I don't know if I was surprised, because I had already experienced it from my time in IT that my Danishness didn't always come across in the right way in the English environment."