Dixons Carphone Plummets on Tough Outlook for U.K. Market
(Bloomberg) -- Dixons Carphone Plc shares plunged the most in nine months after the retailer forecast that earnings this year will slump about 21 percent as it closes mobile-phone stores in a contracting U.K. household-electronics market.
The shares declined as much as 27 percent in London trading, reducing the company's stock-market value by 730 million pounds ($967 million). Pretax profit will drop to about 300 million pounds in the year ending April 2019, the company said Tuesday.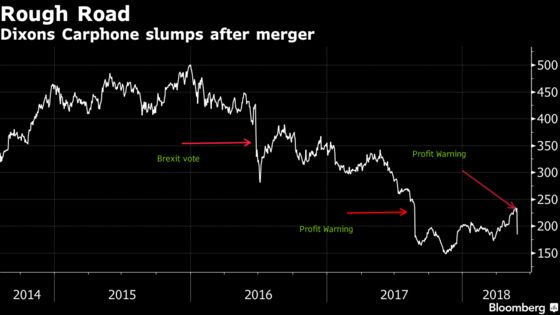 Dixons Carphone has been struggling to convince consumers to replace their old mobile phones as the pound's weakness has driven up handset costs. It's also suffering from unfavorable terms in contracts with network operators to sell phones with subscriptions.
Eight weeks in as Dixons's new chief executive officer, Alex Baldock is trying to revive the company, starting with a plan to shut 92 Carphone Warehouse stores to shore up profitability. On a conference call with analysts, Baldock said the performance in the mobile division is "unacceptable."
"The roots of the problems are the mobile division and complex accounting that seems to be unraveling now," said Chris Chaviaras, an analyst at Bloomberg Intelligence. "I don't want to say it's scary, but it makes you doubt the numbers."
A spokeswoman for the company declined to comment on Dixons Carphone's accounting.
The stock plunged 23 percent on Aug. 24 when Dixons forecast an unexpected drop in earnings, following three years of growth under former CEO Sebastian James. Electronics chain Dixons, which operated the Currys PC World brand, combined with phone seller Carphone Warehouse in 2014 in what the parties called a merger of equals valued at 3.8 billion pounds.
Dixons is in talks with network operators to improve terms of mobile-phone subscriptions offers, he said. The London-based company is also boosting training of store staff to improve customer service.
The postpay market for mobile-phone subscriptions will decline this year, though Dixons aims to offset that by selling more handsets without SIM cards, the company said. Dixons said wage costs are increasing, putting pressure on margins.
Dixons said pretax profit was about 382 million pounds in the just-ended fiscal year, near the high end of its forecast range of 365 million pounds to 385 million pounds.
"There's nothing wrong here that cannot be fixed," Baldock said.