Animal Health Margins Look Good to Head of $820 Million Fund
(Bloomberg) -- Technology and animal healthcare: the recipe for success at a global equities fund.
That's the experience of Gerrit Smit, Stonehage Fleming Investment Management Ltd. head of equity management, whose Global Best Ideas Fund has outperformed most peers in the past 12 months. The returns have been built on eye-catching gains in animal health stocks, combined with a backbone of technology names in London-based Smit's portfolio.
"Many technology companies have become ingrained in our lives and it's extremely profitable," Smit said in an interview in Johannesburg. Smit's fund had $821 million in assets as of May 25, returning 13 percent in a year, better than almost 80 percent of its peers, data compiled by Bloomberg show.
The fund has a 28 percent weighting in technology, with 6.4 percent in Chinese internet giant Tencent Holdings Ltd. Visa Inc. was the biggest holding, as per April 30, at 6.7 percent. A bet on Zoetis Inc. made a year ago has been among the drivers of gains for Smit.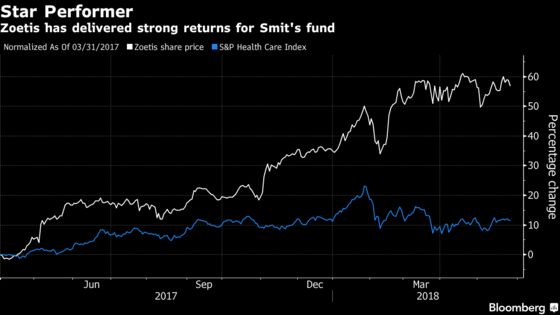 Zoetis, a maker of animal-health medicines and vaccines for both livestock and pets that split from Pfizer Inc. in 2013, was Smit's third-largest holding as of end-April, at 5.5 percent. The stock has surged almost 60 percent since the start of April 2017 in New York.
"We have invested quite heavily in animal drugs," Smit said. The animal health care industry is less competitive than human health, leading to better margins and reduced investor risk, he said. Growth is also faster, at more than 5 percent, compared with about 3 to 3.5 percent in human health.
"As wealth improves anywhere in the world, people have more dairy and more meat," which expands the use of animal medicines, Smit said. Increased spending on pets has the same result. "People get older and have pets for companions for longer and young people are taking longer to settle with families and start having pets early," he said.
Click here to read more about the growing animal health market
Here are more of Smit's views on stocks:
Tencent's technology and expertise "is ahead of many of the advanced groups in the West," he said. "We probably don't have a full idea yet what artificial intelligence is and what you can do with it."
Tencent is the driver of Naspers's share price for now, given uncertainty about Naspers's core business results. Naspers, which owns 31 percent of Tencent, "is perceived to be cheap."
Naspers Ltd.'s annual results, due June 22, will be a critical gauge of profitability at the company's core units, Smit said. If the numbers are positive, there's a good chance of a re-rating of the stock, which has dropped 7.4 percent this year.
Smit's fund has held the stock since 2010, "and I don't think they have been in a better environment," not only in terms of technology, he said.
Accenture helps other companies find the right solutions for cyber-security, employing artificial intelligence. "In a way, because Accenture has to help business into new technology, they themselves have become an example of sustainable technology."