Turkey's Rate Hike Shock Leaves Room for Awe
(Bloomberg Opinion) -- The Turkish central bank finally delivered much needed shock and awe. But it isn't enough to save the lira.  
The bank raised its late liquidity window rate by 300 basis points to 16.5 percent after an extraordinary meeting on Wednesday. Of course Turkey's problems cannot be solved by a rate hike, though it is certainly a decent starting point. It's good to see sense creeping in. 
The lira retraced its 5 percent losses for the day -- but is now back to where it was at the start of Wednesday. It is still about 14 percent weaker versus the dollar this month and remains close to its record low.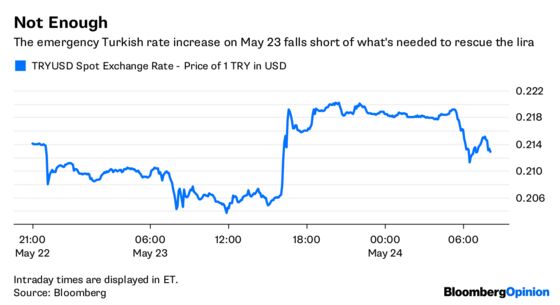 Though the initial move was decent, that it petered out so quickly -- and that swap rates are little changed from yesterday -- suggests some serious skepticism. With inflation in the double digits, officials have surely left it too late anyway.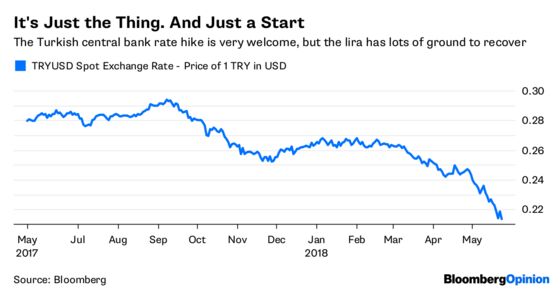 President Recep Tayyip Erdogan is scheduled to speak in Ankara at 2 p.m. on Thursday, and it will be important to see how he qualifies this rate hike, in particular how temporary he views this measure. His insistence that high interest rates cause inflation has significantly undermined the independence of the central bank, as have his comments on how it should set policy. If he continues in this vein, then the lira's gains will surely be fleeting.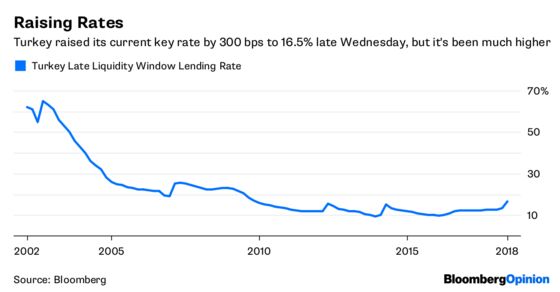 Erdogan's currently running a reelection campaign on a platform that offers a large fiscal stimulus. That is an inflationary time bomb. Hiking rates may help to control price gains, but only if it translates into a stronger currency that can actually shield Turkish business and households from rising import costs and oil prices, while cutting firms' foreign borrowing costs. 
If Erdogan continues to insist on economic chaos and the central bank fails to recover its independence, this rate hike will not stop the rot.