Tiffany Catapults to All-Time High as Sales Blow Away Estimates
(Bloomberg) -- Tiffany & Co.'s revamp is starting to pay off handsomely.
Investors cheered Wednesday as the jeweler posted strong sales growth, raised its profit forecast for the year and announced a share buyback plan of $1 billion. Worldwide same-store sales, a key retail metric, blew away analysts' estimates in the first quarter, led by gains in North America and Asia.
The shares jumped as much as 17 percent to $119.60 in New York trading, an all-time intraday high and the biggest one-day leap in almost a decade.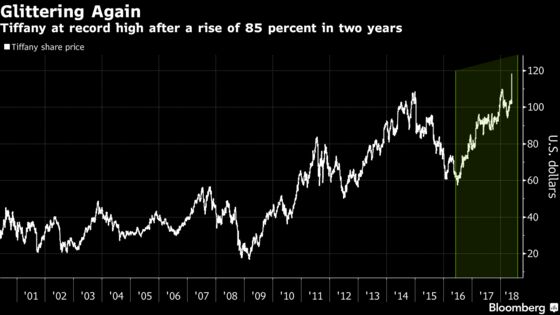 The overhaul started by Chief Executive Officer Alessandro Bogliolo consolidated a rebound under way when he took over last year, with revenue growth last quarter at the highest since 2012. The former Diesel executive aims to woo a younger clientele with refreshed jewelry lines and generate hype for the 181-year-old brand. The revitalization attempt includes redesigned stores and back-end improvements in procurement and technology operations.
"We are particularly encouraged by the breadth of sales growth across most regions and all product categories," Bogliolo said in a statement.
Global same-store sales climbed 7 percent , in the quarter ended April 30 when holding currency constant, compared with the 2.6 percent growth projected by analysts, according to Consensus Metrix.
On that basis, sales rose 9 percent in North America, Asia-Pacific and Japan, all beating analysts' predictions. Asia was particularly strong in China and Korea. The weak spot was Europe, which saw a 9 percent decline due to reduced spending by overseas tourists, the New York-based company said.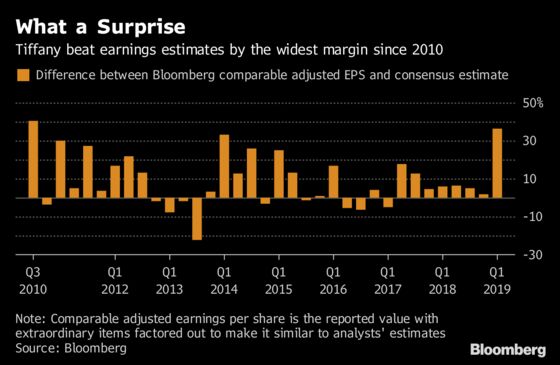 Bogliolo's jewelry renewal is just getting under way. Shoppers got their first look at creative chief Reed Krakoff's debut jewelry collection on May 1. The former top designer at handbag label Coach released a line of platinum bracelets and diamond necklaces that came with price tags from $2,500 to $790,000.
Tiffany has often relied on hit products to drive sales, but older styles from designers like Elsa Peretti and Paloma Picasso have remained top attractions rather than new lines. Krakoff hopes to change that.
Earnings amounted to $1.14 a share, excluding some items, compared with the average 83-cent estimate. Revenue rose 15 percent to $1 billion, surpassing projections of $959.4 million. The company cited strength across all jewelry categories, including the engagement and designer segments.
Before Wednesday, the stock had dropped 1.7 percent this year, trailing peers in the Standard & Poor's 500 consumer discretionary index, which gained 6.3 percent.