Target's Profit Gets Squeezed by Online Push to Drive Sales
(Bloomberg) -- Target Corp. has been getting much better at delivering goods swiftly to customers. If only it could deliver profit as reliably.
Shares of the retailer slid Wednesday after first-quarter earnings fell short of analysts' estimates. Investors punished the company for failing to improve gross profit margins as it had promised. Profit got squeezed by new initiatives to drive online sales and weaker-than-expected demand for apparel, hurt by unseasonable spring weather.
"The Street was not expecting this development," Chuck Grom, an analyst at Gordon Haskett Research Advisors, said in a note. "Target had guided grosses to be up."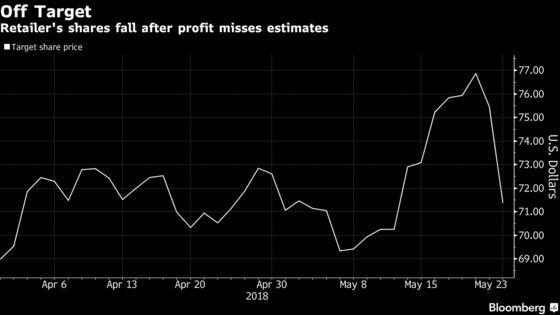 Target Chief Executive Officer Brian Cornell has made e-commerce a key part of his $7 billion turnaround plan, and earlier this month slashed some next-day delivery fees nearly in half to lure customers away from Amazon.com Inc. and Walmart Inc. The company is also adding voice-activated shopping through Google's home assistant and bringing same-day delivery to most major U.S. markets in time for holiday shopping. As with other retailers like Walmart, though, the cost of that expansion has crimped Target's profitability.
"The problem is that all these investments don't end -- it's the cost of doing business in retail today," Brian Yarbrough, an analyst at Edwards Jones, said by phone. "Their initiatives are taking hold and sales look good. But at what expense to profitability?"
The shares dropped as much as 5.8 percent to $71.07, slicing their gain this year to about 9 percent. Target reported earnings of $1.32 a share in the period ended May 5, short of the average estimate of $1.39.
Target's gross margin was 29.8 percent for the quarter, down from 30.5 percent in the same period last year. Efforts to expand online sales -- including curbside pickup and same-day delivery -- have resonated with customers but have taken a toll on the bottom line. Margins were also impacted as shoppers delayed purchases of apparel, a high-margin category, due to the cold, wet weather.
Target had said in March that it was expecting a "moderate" increase in gross margins.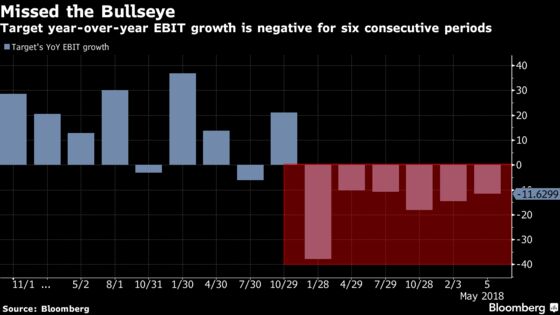 Still, the online push did result in a 28 percent gain in digital revenue in the period. That contributed to a 3 percent lift in same-store sales, beating analysts' average prediction, according to Consensus Metrix. Customer traffic increased 3.7 percent, the best result in more than a decade, and sales should accelerate in the current quarter, Target said.
But that wasn't enough to please investors, who were also concerned with rising operating costs stemming from Target's decision to raise its minimum wage to $12 an hour this year.
"Overall we view the first-quarter results as disappointing," Mark Astrachan, an analyst at Stifel Nicolaus & Co., said in a note.