Musk's Moonshot Award Aped by Taser Maker as Advisers Balk
(Bloomberg) -- At first glance, it may seem like a shockingly good deal for shareholders: A chief executive officer who agrees to work for free until the firm's value has grown several times over.
It's been the case at Tesla Inc. for years. In March, the electric-car maker's investors decided to stick with that model for another decade by approving an award for Elon Musk that could be worth tens of billions of dollars if the company multiplies in size. On Thursday, Taser-maker Axon Enterprise Inc. shareholders vote on a copycat grant for CEO Rick Smith.
A "yes" vote could encourage more companies to offer the moonshot awards, even as boardrooms across the U.S. scurry to consult compensation advisers over their viability and consultants debate their worth. Some view them as a way to closely link pay with shareholder interests and drum up attention around the firm's long-term ambitions. Others argue they can prompt excessive risk-taking, complicate succession and end in disillusionment if things don't pan out.
"These kinds of transformational incentive plans create an enormous amount of alignment with shareholders," said Ira Kay, a managing partner at Pay Governance, a compensation-consulting firm. "But there's a real economic world and laws of physics out there. You can't break the laws of physics."
Executives of large publicly traded U.S. companies typically receive salaries, bonuses and equity grants each year. Bonuses are often linked to annual performance goals, while the equity usually pays out over three or four years. Transformation awards, including those for Musk and Smith, fall into a separate category. While the payoff can be astronomical, the performance conditions tend to be equally challenging.
Tesla granted Musk stock options in 2012 equal to about 5 percent of its outstanding shares, and tied the vesting to market value and vehicle production goals. Less than six years later, 19 of the 20 goals had been achieved, the stock price had increased more than 10-fold and the firm briefly surpassed General Motors Co. in size. In March, investors approved another grant that could yield Musk billions of dollars if Tesla becomes one of the world's biggest companies.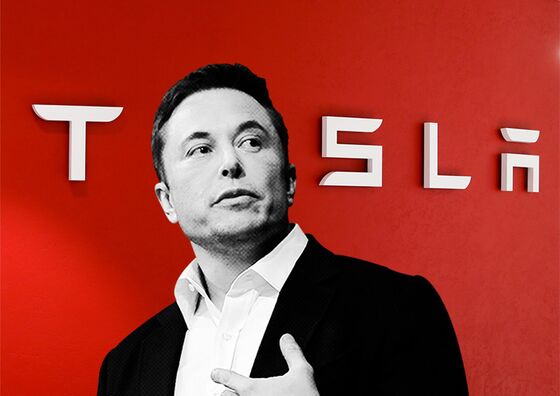 Axon used Tesla's playbook to model a grant for Smith, who founded the Scottsdale, Arizona-based maker of security systems and equipment in the 1990s. Pending shareholder approval, Smith will get 6.37 million options divided into 12 tranches, which vest if goals for market value and either revenue or earnings before interest, taxes, depreciation and amortization are met. To receive all of them, the market value must roughly quadruple from Tuesday's close and revenue and Ebitda grow more than fivefold.
The structure will ensure Smith "is motivated to generate long-term value for shareholders" and won't have "incentives to engage in short-term measures," Axon said in a filing announcing the grant.
"This award makes sense for a mission-driven, founder-led company like Axon," Chief Financial Officer Jawad Ahsan said in an emailed statement. "This is a long-term incentive that's 100 percent pay-for-performance, and, if achieved, means we will have created tremendous value for society, shareholders and the company."
Not everyone's convinced. Proxy advisory firms Institutional Shareholder Services Inc. and Glass Lewis & Co. recommended that investors reject the plan, citing concerns about dilution and pointing out that Smith will get high pay even if only a couple of the tranches vest. Governance watchdogs often caution that mega grants can spur too much risk-taking and jeopardize a firm's long-term health.
Conversely, if market conditions deteriorate and payouts seem out of reach, executives can become discouraged and start looking for other jobs. That can put boards in a difficult spot, because modifying awards retroactively can draw investor criticism. Executives who are hired later on may expect they'll receive similar-sized grants, which can be costly.
Occasionally, things work out too well. In 2012, U.K. homebuilder Persimmon Plc set up a long-term incentive plan for about 140 of its executives linked to per-share cash returns over a number of years. Partly because of a change in government subsidies for home purchases, the firm exceeded its goals and the plan generated big payouts for executives, including more than 100 million pounds ($134 million) for CEO Jeff Fairburn.
The awards resulted in a firestorm of criticism from investors and the public, leading to the resignation of the chairman and the CEO pledging to donate part of his payout to charity.
While the lure of big windfalls can make mega grants seem attractive to many executives, boards must exercise caution in deciding whether such awards are appropriate, said Dan Walter, CEO of Performensation, a compensation consultant.
"It's like every parent saying, 'I want my kid to play center in the NBA'," Walter said of boards that may be overestimating the quality of its CEO. "Well, is your kid going to be taller than 6-foot-9? If not, he's probably not going to play center."