M&S Faces Up to Past Errors as Food and Clothing Sales Fall
(Bloomberg) -- Marks & Spencer Group Plc owned up to its mistakes, saying it needs to close more stores and catch up to rivals in e-commerce as Chairman Archie Norman tries to pull the U.K. retailer out of a crisis that has dragged on for more than a decade.
A decline in sales of food and clothing in the fourth quarter underlined the need for a restructuring of the 134-year-old fixture of the U.K.'s shopping districts, including plans to shut nearly one-third of its large stores. The retailer said it's accelerating a drive to become a "more commercial, more digital business."
Chief Executive Officer Steve Rowe acknowledged the company's past missteps, saying M&S was slow to embrace e-commerce and to respond to a slump in foot traffic on the U.K.'s shopping streets. After previous turnaround plans by former management failed to restore consumer interest in M&S apparel and shoppers even began defecting from its grocery aisles, he and Norman asked for patience.
"The changes that are being made are really formative for our future," Norman said in an analyst briefing. "Improvements in trading will take much longer. We are building a business for five to 10 years in the future."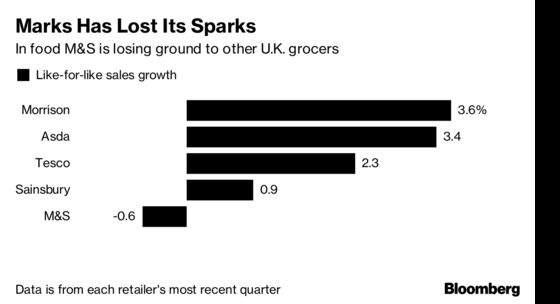 Despite the weakness, M&S's forecast for the current year is not as bleak as some investors expected, and that helped lift the shares, which were up as 1.8 percent at 10:40 a.m. in London. Earlier they rose as much as 6.6 percent.
Under Norman, who became chairman last year, M&S is lowering prices and upgrading its e-commerce infrastructure. But competitors are giving it new headaches, with J Sainsbury Plc's $10 billion acquisition of Walmart Inc.'s Asda threatening to intensify price competition in clothing and food. Soaring costs and stagnant demand are squeezing all of the U.K.'s store-based fashion retailers.
Same-store sales in M&S's clothing-and-home division fell 3.4 percent in the fourth quarter, more than double the rate of decline that analysts expected. Comparable sales in food, long the engine of growth for M&S as its apparel operations slumped, fell 0.6 percent.
"It's worrying to see that M&S's slowdown in food has continued," TCC Global analyst Bryan Roberts said by email. "As retailers across the industry have invested more heavily in their premium and private-label offerings, M&S's pricing has looked increasingly over the top."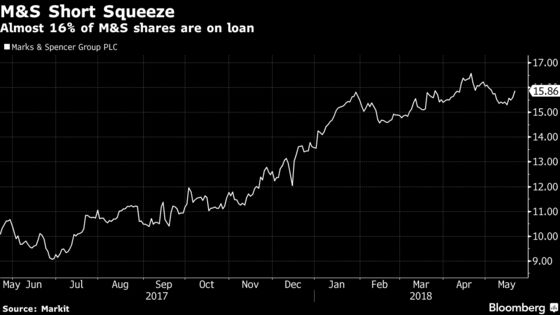 The retailer recorded one-time charges of 514 million pounds ($689 million) related to the store closings, cutting its pretax profit by 62 percent, to 66.8 million pounds, in the 52 weeks through March 31. In the last two years M&S has recorded one-time charges worth almost a billion pounds.
"Marks & Spencer has admitted defeat on its recent strategy and the proposed revamp of a business whose brand may yet become its saving grace has been well received by investors," Richard Hunter, head of markets at Interactive Investor, said in an emailed comment.
Short selling -- in which investors seek to profit from selling borrowed shares and later buying them back at a lower price -- has spiked, with nearly 16 percent of M&S stock on loan, according to IHS Markit data. That's the second-highest level of any company in the U.K.'s benchmark FTSE 100 index.
The one-time charges reflect past missteps. Rowe pulled back from former CEO Marc Bolland's costly and unprofitable international expansion, wrote down the value of ageing stores and swallowed the cost of closing many of them.
As sales dwindled, Bolland assuaged investors by increasing profit margins. But as rivals cut prices, M&S lost competitiveness in clothing and food. Norman has mandated more price reductions in an effort to kick-start sales.
After the company lost a step in e-commerce, Bolland sought to challenge Amazon.com Inc. by building a highly automated facility that opened five years ago. It cost more than 200 million pounds but remains unreliable, slowing M&S's processing and delivery of orders.
The online business grew by 5.2 percent last year, less than half of the rate of its closest rival, Next Plc, which has a bigger online business. M&S wants one-third of its clothing and home sales to be made online, up from about 18 percent now.
"Ongoing structural pressures mean that any path to recovery for M&S continues to look long and uncertain," Liberum analyst Adam Tomlinson said by email.