London Home Price Declines Seen Continuing for Next Three Years
(Bloomberg) -- London home prices, which almost doubled over the past decade, will probably fall over the next three years, according to a survey of seven economists by Bloomberg News.
Values will decline by up to 10 percent over the period, according to five of the respondents. Two said they would remain unchanged and none of those who replied foresee gains. The results tally with research by Hometrack, a valuer used by 17 of the top 20 U.K. lenders, which expects prices to fall further over the next 24 months as affordability and economic and political uncertainty stemming from Brexit weigh on demand
Bloomberg News asked six market commentators to predict what they see happening next in London's 1.8 trillion-pound ($2.4 trillion) housing market.
"Years of rampant house price growth have left the capital with a massive affordability problem. Investors have withdrawn from the market thanks in part to tax changes. Unlike the rest of the U.K., first-time buyers have not been able to replace them. The deposit needed in London is too high for all but the luckiest. Instead we are faced with a stagnating market. Turnover, down 18 percent over the last four years, will remain low this year and prices will weaken. Looking further ahead, even lower demand due to Brexit or interest rate rises could put further pressure on some home-owners and investors to sell."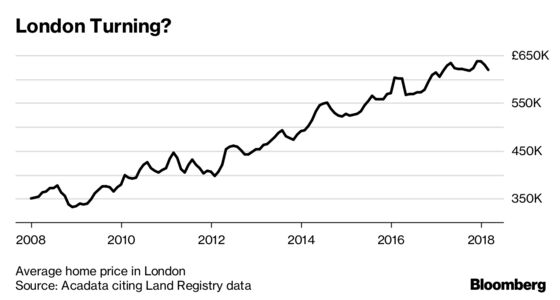 "Sellers and buyers are starting to price in an anticipated reduction in housing demand due to Brexit, as well as increased policy uncertainty. The relocation of finance jobs to the European continent will directly reduce housing demand, which is already fragile given that price-to-income ratios in the capital are high. More generally, a decline in net immigration into London will damp housing demand. The decline in house prices also reflects a marked increase in policy uncertainty, as the political dynamics post-Brexit are difficult to predict. Future governments might consider real estate taxes, targeted at the higher end of the market, to curb economic inequality and close budgetary gaps. Tax increases can have a direct negative impact on house prices."
"It's likely prices will continue to fall, led by London, and that will spread out to the south east and, in due course, to the rest of the country. This process will likely continue over the next two years of acute Brexit uncertainty. I think it is unlikely there will be a super collapse due to the underlying shortage of housing in London and England generally. Prices and transactions will continue to fall, however, led by the top end of the market -- which hasn't bottomed out yet -- and oozing out to the outer boroughs and further. The economy hasn't performed well since 2007 and, with Brexit, that underperformance will continue. If things go really badly it is not outside the realms of possibility that there could be substantial falls to come, although that wouldn't be my central prediction."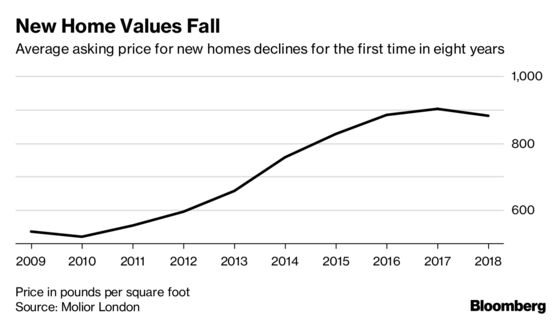 Ian Sutcliffe, chief executive officer at Countryside Properties Plc:
"We haven't seen prices fall in the outer boroughs particularly at the price point that we operate with -- our average selling price in London is 500,000 pounds. It's difficult to see the top-end market recovering in the short term. We positioned our business away from that on the assertion that affordability for local people isn't going to catch up to some of the levels that we've seen in central London. But I think the outer boroughs will hold up well as we see unrequited demand for housing of all tenures, for example private affordable and truly affordable rented homes."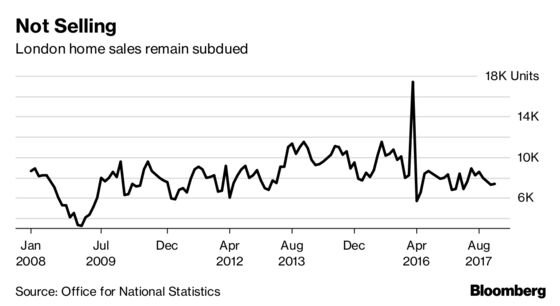 "Feedback to our monthly residential survey suggests that while not all outer London boroughs are now seeing price declines, the downbeat picture is becoming increasing evident across more of the capital. Very different dynamics are driving the softer story in the mainstream London market. It is clearly not about foreign buyers, rather a drying up of buy-to-let investors and, more significantly, affordability constraints. It's certainly hard to see, against a background of increasing question marks about the economy and the outlook for interest rates, what is going to provide renewed impetus for the market. This is also visible in the widening gap between asking and selling prices -- many vendors still believe their properties are 'worth' the prices they were valued at previously. The ramification of this is that because most are not under pressure to sell, they don't. This standoff is being reflected in a sharp drop in London transactions which I believe is a real concern. I don't think we have seen the bottom of the market as yet and suspect that prices may slip a little further with activity subdued for a while to come."
Raj Badiani, economist at IHS Markit:
"Having performed robustly during the boom years, London's housing market is now under greater pressure with stagnant real household incomes and low confidence exposing its punishingly high house-price-to-earnings ratio, resulting in falling prices and less new buyer interest. Nevertheless, the downward correction in London house prices is likely to be orderly, with its housing market enjoying support from strong labor market conditions and prolonged period of low mortgage borrowing costs. An additional support remains pent-up demand for housing."