German Banks See 2 Years of Capital Progress Wiped Out by Basel
(Bloomberg) -- Germany's biggest lenders will see efforts to build their financial strength set back by two years if the European Union adopts new international standards for measuring risk, according to a banking lobby.
The Basel III rules keep the pressure on lenders to fire staff and hold back on shareholder payouts to build up capital, given that record low interest rates are eating into their revenue. Regulators assembled in the Basel Committee on Banking Supervision say the reforms are needed to prevent a repeat of excessive risk-taking that fueled the 2008 financial crisis.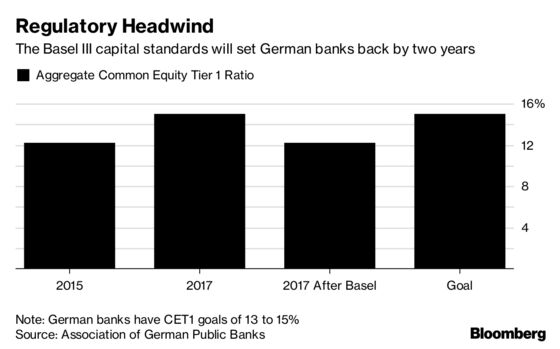 "The regulators clearly missed their goal of preventing a significant increase in capital requirements," Johannes-Joerg Riegler, president of the Association of German Public Banks, told reporters in Frankfurt on Wednesday. "We want as few negative consequences as possible for European banks when the rules are implemented. The culture of extending long-term loans could otherwise be damaged."
The German bank lobby's estimate shows the effect of immediately applying the finalized Basel III standards to 16 of the country's biggest lenders. The EU has yet to make the package legally binding, and in practice, the blow will be softened given the rules will be implemented in stages until 2027.