For Asia's Newest Central Bank Chief, It's a Trial by Fire
(Bloomberg) -- A central bank chief's first day on the job doesn't get much tougher than this.
When Perry Warjiyo was named as Bank Indonesia's new governor last month, a rout in global emerging markets was only just starting to take hold. With the rupiah having slumped almost 3 percent against the dollar since his appointment, and investors continuing to dump the nation's stocks and bonds, the 59-year old faces a trial by fire.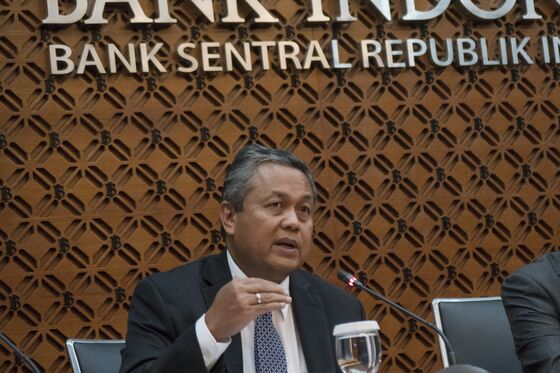 Warjiyo wasted no time in setting the tone of his approach in office, telling reporters shortly after he was sworn in on Thursday that the central bank will use monetary policy to stem the selloff.
"Bank Indonesia is committed to maintaining stability of the exchange rate," he said. "We plan on being pre-emptive, we will implement a front-loading policy and be ahead of the curve in our policies."
Warjiyo said his priority in the short term will be to strengthen measures to stabilize the rupiah, disclosing that authorities had bought 50 trillion rupiah ($3.5 billion) of government bonds this year, with 13 trillion rupiah being spent this month alone.
Indonesia has been swept up in a global emerging market rout and is bracing for further turmoil as U.S. interest rates rise and the dollar strengthens. The rupiah this week slumped to its weakest level in two-and-a-half years despite Bank Indonesia's increased intervention and its first rate hike since 2014 last week.
Warjiyo's comments helped to calm the currency, which rose 0.3 percent to 14,161 against the dollar as of 2:30 p.m. in Jakarta, paring its decline for the year to 4.2 percent. The Jakarta Composite Index surged as much as 2.7 percent as foreign investors finally returned to the market after withdrawing money for 21 straight days.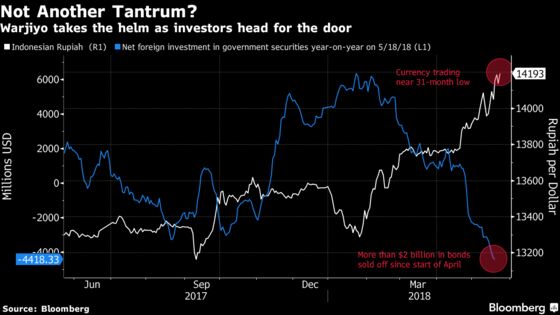 A deputy governor for the past five years, Warjiyo has been with the central bank for more than three decades -- during both the Asian financial crisis and 2013's so-called taper tantrum.
"He's the right man," said Melchias Mekeng, a lawmaker who chairs the Indonesian parliament committee that oversees financial affairs. "Much of his time has been in monetary policy. His background is very complete."
The central bank raised its benchmark interest rate last week to 4.5 percent and pledged to take "stronger measures" to maintain stability. It stressed vigilance to global risks, including Federal Reserve hikes, higher U.S. Treasury yields, rising oil prices and trade tensions. Warjiyo didn't attend the policy meeting because his term as deputy had ended.
The last time Bank Indonesia experienced this kind of turmoil was in 2013 -- when the Fed raised the prospect of paring back U.S. bond-buying, roiling emerging markets. That kicked off an aggressive tightening cycle in Indonesia that saw 175 basis points of hikes in just five months.
Warjiyo is likely to follow a more moderate path, says Joey Cuyegkeng, a senior economist with ING Groep NV in Manila.
"With further weakening of the rupiah, more monetary action is likely and could be as early as the June meeting," Cuyegkeng said. But "a less aggressive tightening cycle is likely."
Inflation is better controlled this time around. The annual gauge peaked at 8.2 percent in 2013, compared to the latest reading of 3.4 percent, which is well within the current target of 2.5 percent to 4.5 percent.
Besides monetary policy, Warjiyo has another daunting challenge: Indonesian politics. There's increasing concern from lawmakers about what the market selloff means for the recovery of Southeast Asia's biggest economy, as President Joko Widodo, known as Jokowi, prepares for a re-election bid in 2019.
A key challenge for authorities has been boosting economic growth, which is about 5 percent, still well below the 7 percent targeted by the president.
Mekeng, the lawmaker, said the new governor will likely be called before parliament for a briefing almost as soon as he takes up his new post.
Finance Minister Sri Mulyani Indrawati said on Thursday the government and central bank will work together to maintain stability, pledging her support to the new governor.
"I have met with the president. We've agreed to strengthen coordination between the government and Bank Indonesia, to strengthen stability and spur growth," Warjiyo said. "That's our commitment. It's clear that the combination of fiscal and monetary policies can maintain stability and push for growth."