Ex-Guerrilla's Tax-the-Rich Cry Catches Fire in Colombian Vote
(Bloomberg) -- He's a former leftist guerrilla who wants to shift Colombia's economy from oil and coal to solar and avocados. Running for president, he vows to hike property and corporate taxes. Wall Street investors say he can't win. But with just days to go before the vote, Gustavo Petro is stubbornly hanging around in polls and just may surprise the naysayers.
As he arrives in the coffee-growing capital of Pereira west of Bogota one recent evening -- his supporters braving a two-hour wait in driving rain -- Petro, bespectacled and casually dressed, brings his message of radical makeover.
"Colombia must get beyond feudalism," he declares. "Its fertile land must be redistributed to those who produce." Addressing wealthy property owners, he added to cheers: "If you don't want to pay the taxes, we will buy the land."
Petro is consistently placing second in the polls to Ivan Duque -- a market-friendly, U.S.-educated disciple of ex-President Alvaro Uribe -- for Sunday's first round vote and stands a strong chance of making it at least to a run-off election in June.
The left has been in retreat across Latin America -- in Brazil, Argentina, Chile and Peru, free-spending populism has gone bankrupt sending market-friendly politicians to power. But Colombia has always been different, partly because vast swaths of its territory were held for decades by Marxist guerrillas. Now, with that conflict finally ended, a more politically palatable left, led by Petro, appears to be gaining ground.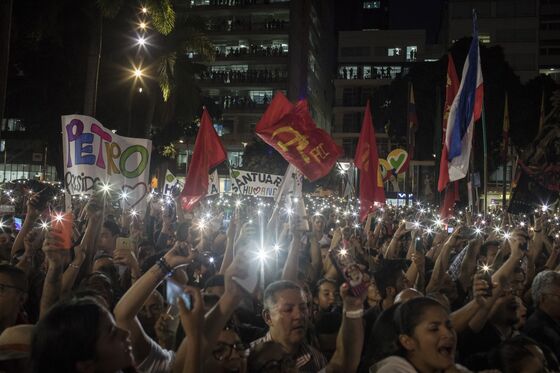 Jorge Munoz is among those in the crowd cheering on Petro in Pereira. A 73-year-old cobbler, Munoz says the inequality -- only Haiti is more extreme in Latin America -- must come to an end.
"Our country has been played by a political elite of five families," he says.
Nataly Valencia, a 28-year-old mother, agrees and adds: "For me, Petro stands for strength and honesty, the truth of the people."
Investors seem not to be worrying about the attention he's drawing.
The market may be "getting a bit complacent," said Rashique Rahman, strategist at Atlanta-based Invesco Advisers, which manages $3.8 billion in emerging market assets, including Colombian debt. "It could be that we're setting ourselves up with this complacency for a period of reckoning. That is a risk that we very much need to be attuned to."
Investors say Petro's platform is too extreme to win wide support. That speculation is showing up in the currency market, where the peso is the best-performing currency in emerging markets this year. Meanwhile, the currencies in Mexico and Brazil, which have presidential elections in July and October, respectively, have both lost value against the dollar.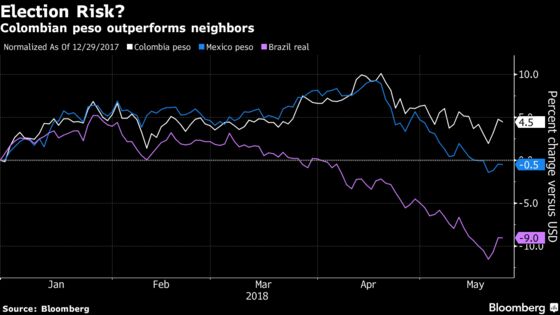 Foreign investors have poured money into the country in recent years, and now own more than a quarter of the government's local bonds. Rahman said they would be one of the first assets to suffer from a Petro victory. Graham Stock, senior sovereign strategist for emerging markets at London-based BlueBay Asset Management, which holds Colombian debt among its $60 billion in assets, believes Petro has little space to gain more support in a second round.
"It's difficult for Gustavo Petro to attract more voters than he has already without losing support from more hard-line supporters," he said "Duque could moderate his stance and hoover up more centrist votes. That impression is confirmed by the polls."
An economics student who joined the M-19 guerrilla group in the 1970s before building a career in politics and serving as mayor of Bogota, Petro is proposing a radical shift for Colombia's $310 billion economy. He wants to wean the country off its two largest exports, coal and oil, and replace them with agricultural products such as avocados.
In interviews, he's said his administration would welcome foreign investment in solar power, food production and computer programming, but not in oil or coal. He's promised to tax wealthy landowners and stock investors, and says he follows Scandinavian social policies, Costa Rica's model of environmental protection, and looks to Vietnam and the Baltic states when it comes to education systems.
He has brushed off comparisons to other leftist leaders, including Venezuela's former President Hugo Chavez, although he has spoken admiringly of him.
Leading in some polls as recently as March, Petro's chances took a hit that month when Duque became the frontrunner after posting a landslide victory in a presidential primary.
Election forecasting has proven notoriously inaccurate in recent years, underestimating the support for Donald Trump in the run-up to the U.S. elections, and the backing for Brexit in the U.K.
Petro, whose strongest support lies in Bogota and in Caribbean coast, believes he'll turn the tide in places like Pereira.
"The polls say we're not winning because we don't have support of the coffee region," he told the crowd. "But I say it's because of Pereira and the coffee region that we're going to win the presidency."
Marisela Ramirez, a 36-year-old radiologist who took her son to the rally, said she was lured by the candidate's pledge to stamp out corruption.
"Gustavo Petro has the freshest ideas," she said. "Colombia needs a change."