Ex-Barclays Trader Says Fixing Rates Didn't Feel Like `Cheating'
(Bloomberg) -- A former Barclays Plc trader on trial for rigging a key interest rate said he never considered that his actions could affect normal people borrowing money.
Colin Bermingham told a jury at a London court Wednesday that accommodating trader requests when helping set Euribor, an overnight rate linked to trillions of dollars of loans and derivatives, wasn't inappropriate when he participated between 2005 and 2009.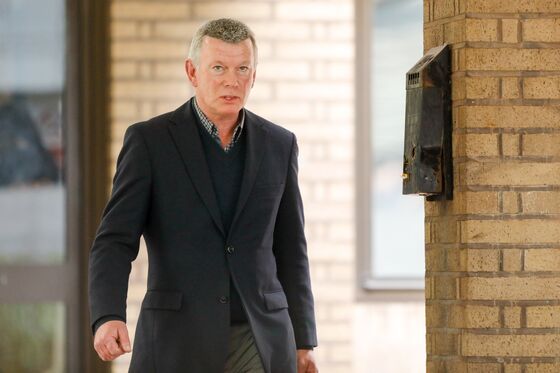 "It would always have been in my mind that it would've been a rounding matter," said Bermingham, although he said he didn't recall his thoughts or actions of the time. "It was never in my mind that this would ever be affecting every citizen in the euro zone or in Europe, not in a million years."
Bermingham, who retired from Barclays in 2012, is on trial with former co-workers Carlo Palombo and Sisse Bohart as well as Achim Kraemer from Deutsche Bank. They all deny charges that they fixed the euro interbank offered rate. Former Barclays trader Philippe Moryoussef, who is charged in the rate-fixing case, is in France and doesn't have a lawyer representing him. Former Deutsche Bank trader Christian Bittar pleaded guilty to rate fixing before the trial began.
The U.K. Serious Fraud Office investigation was part of a wider probe into benchmark rates, the most famous of which was Libor, a counterpart of Euribor.
Bermingham managed a team making the submissions, which, together with those from other major banks, resulted in the daily Euribor rate. If he'd had a choice, Bermingham said he wouldn't been involved in the process, as it was nothing more than a "chore."
The rules setting out how Euribor submissions should be made didn't forbid taking trader requests into account until 2010, Bermingham said.
"There was nothing to say that I shouldn't take a request into account," Bermingham said. "I didn't think even a little bit that it was like cheating. I had a clear conscience."
He also never considered whether a derivatives trader ended up making a profit based on his submission, Bermingham said.
"I didn't think about it," he said. "I never looked at the outcome. Back then it didn't seem anything was amiss or wrong with us taking those requests into account."