These States Are Making the Most of This Moment
(Bloomberg Opinion) -- With the start of the Great Recession now a little more than a decade behind us, it can be instructive to look back on what has transpired since. I did that with some national economic indicators back in January (and many others have done similar retrospectives). But what about the states? Some were devastated by the housing bust and subsequent economic downturn. Others, not so much. Some have come roaring back during the recovery. Others, not so much.
The Bureau of Labor Statistics released April jobs numbers for the states (and the non-state entity that comprises our nation's capital) last Friday. Here are the ones that have seen the most job growth since January 2008, which is when payroll employment began its national decline at the onset of the recession. That is, they're the best performers over the entire business cycle so far: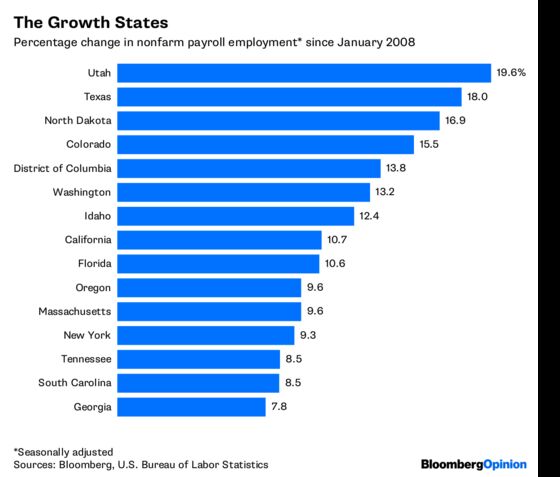 North Dakota has been on a different economic cycle from the rest of the country. Thanks to the Bakken shale oil boom, it actually added jobs during the national recession. Thanks to the partial fizzling of that boom, employment is down 9.1 percent in the state since December 2014. For all the other states on the list, though, the job growth has continued.
Now here are the states with the slowest job growth — or outright job losses — since January 2008: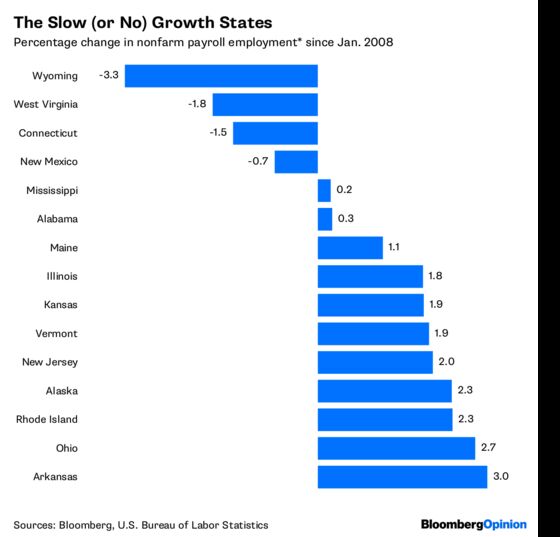 There isn't a political pattern here that I can discern, and not all that much of a regional one. The top list has eight states that went for Donald Trump in the 2016 election and seven that didn't. So does the bottom list. Every one of the four Census regions is represented on both lists.
A better explanatory variable seems to be the presence of major metropolitan areas, which for the sake of simplicity (and sports!) I'll define as big-league cities. States that have major professional football, baseball, basketball, hockey or soccer teams take up 12 of the 15 spots on the growth list and four on the slow-growth list (and in two of those cases, Kansas and New Jersey, they have the teams by virtue of being next door to a major metropolis in a faster-growing state).
This big-city centripetal effect seems especially pronounced in the Northeast, which has been growing more slowly overall than the South and West. Jobs seem to have been shifting away from the states without big cities (Connecticut, Maine, New Jersey, Rhode Island, Vermont) and toward Massachusetts and New York.
Another important state metric is personal income. The Bureau of Economic Analysis just released inflation-adjusted state income numbers for 2016, and the data only goes back to 2008, so it's not quite the whole business cycle. But close enough. I've ranked states by change in per capita personal income so as to cancel out the population-growth effects that are already to a great extent reflected in the employment data.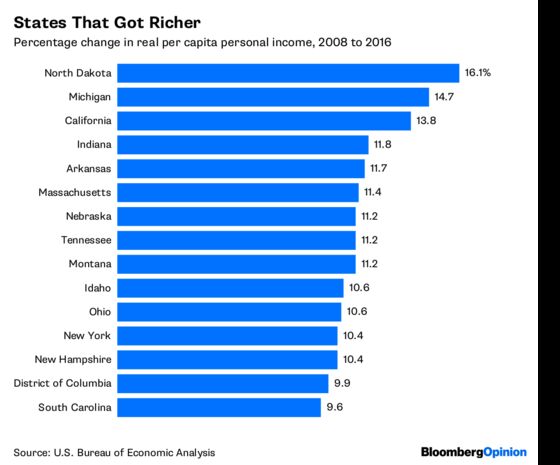 North Dakota we already know about. That's mainly due to the Bakken shale, which also surely boosted incomes in neighboring Montana. California is no big surprise, either, given what a great run Silicon Valley has been having. But Michigan? Indiana? Ohio? Their presence on the list is partly a reflection of how awful the years leading up to 2007 were in the Midwestern manufacturing heartland. It's also possibly a reflection of the fact that hundreds of thousands of people have left Michigan and Ohio in particular for other states. And it definitely reflects that since the recession, the economies of these states have been picking up a bit.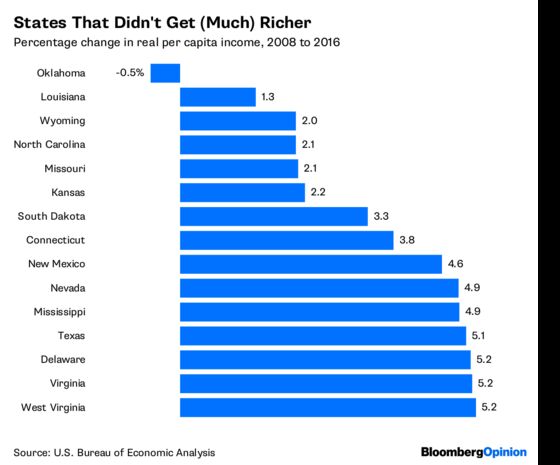 Then again, this list also includes eight states (with Connecticut leading the way) that have seen net outflows to other states since 2010. So ... never mind. These personal income numbers can be tougher to parse than the jobs data.
Finally, since it was a housing bubble and bust that brought on the recession, let's look at housing prices. The Federal Housing Finance Authority tracks them for states on a quarterly basis. The fourth-quarter 2017 numbers were released in February (the next data release is Thursday), and here's what they showed: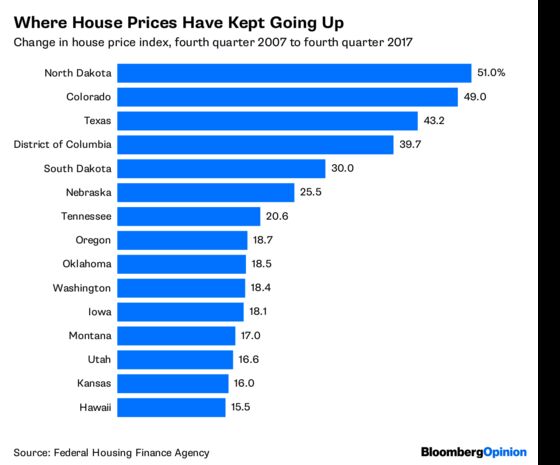 Hey, look which state isn't on that list — infamously expensive California, where prices have risen 9.2 percent since 2007. There's a lot more to California (and its real estate market) than Silicon Valley, and California house prices fell a lot during the recession. They hardly fell at all in Texas, where years of price increases now mean that the big metropolitan areas now no longer rank particularly high on the National Association of Realtors' housing affordability index — although they do still rank a lot higher than any metro area in California.
As for the states with the worst house price performance since 2007, it's a mix of Sunbelt states that got caught up in the housing bubble and bust, Eastern ones with high prices and not much growth, and a few other stragglers: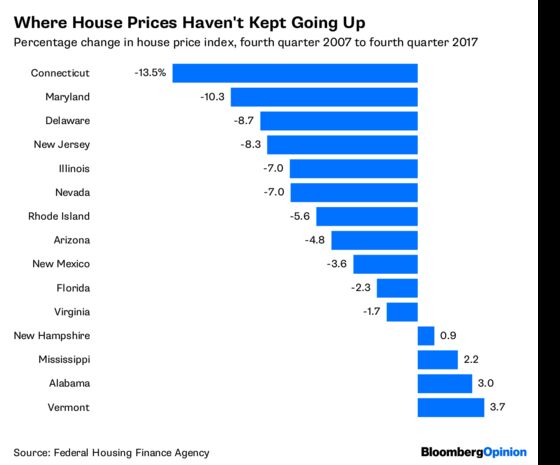 It really hasn't been a great decade to own a house in Connecticut. In fact, as I look over these charts, the single most consistent story that jumps out is that it's been an awful decade overall for the Nutmeg State. It's still the country's richest state by per capita personal income (although it has trailed the rapidly gentrifying District of Columbia on that metric since 2011), but everything has been headed in the wrong direction for a while now. I don't know exactly what the keys to state economic success are, but the keys to decline may have something to do with high taxes, an aging population, underfunded state pensions and losing the Hartford Whalers to North Carolina in 1997.