CIBC's Mortgage Growth Cools as Profit Beats Estimates
(Bloomberg) -- Canadian Imperial Bank of Commerce is no longer such an outlier on mortgages.
CIBC's rapid expansion of Canadian home loans has eased, bringing it more in line with the industry and ending a two-year streak of outpacing the nation's other big banks. Mortgage balances rose 6 percent to C$208.2 billion ($161.6 billion) in the fiscal second quarter from a year earlier, the Toronto-based bank said Wednesday in announcing earnings that beat analysts' estimates. That's the slowest growth in three years and balances were little changed from the first quarter.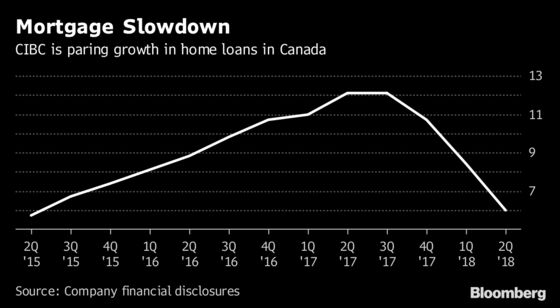 "CIBC produced a solid quarter, which should receive some attention," Barclays Plc analyst John Aiken said in a note. "Aside from a strong beat and an announced share repurchase, CIBC's domestic residential mortgage growth was essentially flat, potentially relieving a relative overhang on the stock as investors have become increasingly concerned with the bank's relative exposure."
CIBC shares fell 1.2 percent to C$115.62 at 9:53 a.m. trading in Toronto. The stock has declined 5.6 percent this year, the worst performer among Canada's six-largest lenders.
Canada's fifth-largest lender stopped expanding its team of mobile-mortgage advisers after years of growth fueled a rise in home-loan balances above 12 percent last year. Canadian home sales have softened in the wake of government measures to cool the market, including tougher mortgage-qualification rules imposed in January.
CIBC said in Wednesday's earnings call that it expects mortgage growth to fall to low single digits by the end of the year.
"A lot of what you're seeing is just the impact of a slowing market," Chief Financial Officer Kevin Glass said in an interview. "There's nothing particular that we're doing to slow down mortgage growth -- we continue to have good client relationships, we continue to service our clients, but the market is slowing."
While tougher mortgage underwriting standards by Canada's regulator have had an impact, the housing market has also eased, he said.
CIBC is the the first Canadian bank to post results for the period ended April 30. The nation's biggest lenders are expected to post average earnings growth of 8 percent for the period, according to Bloomberg Intelligence, lifted by gains in U.S. and international operations, wealth management and domestic banking.
Chief Executive Officer Victor Dodig has sought to diversify CIBC following criticisms that the bank is "too Canadian focused." The lender has the greatest relative exposure to Canada's housing market, with a higher percentage of earnings coming from domestic personal-and-commercial banking than its bigger rivals.
"Each of our business units performed well," Dodig said in the statement. "We delivered robust earnings growth with continued progress on our strategy to build a relationship-oriented bank."
Royal Bank of Canada and Toronto-Dominion Bank, the nation's two largest lenders, report results Thursday, followed by Bank of Nova Scotia and Bank of Montreal next week.
Here's a summary of CIBC's quarterly results:
Net income for the quarter rose 26 percent to C$1.32 billion, or C$2.89 a share, from C$1.05 billion, or C$2.59, a year earlier. Adjusted earnings were C$2.95 a share, compared with the C$2.81 estimate of 13 analysts surveyed by Bloomberg.
Canadian personal and business banking rose 16 percent to C$584 million, while domestic commercial banking and wealth management rose 9.2 percent to C$310 million.
Earnings from U.S. commercial banking and wealth, which includes last year's acquisition of PrivateBank, were C$138 million.
Earnings from capital markets fell 7.4 percent to C$249 million, primarily due to higher expenses and a higher tax rate, according to the bank. Investment banking fees fell 13 percent to C$90 million from a year earlier.
Revenue rose 18 percent to C$4.34 billion
CIBC said it plans to buy back up to 9 million shares, or about 2 percent of its outstanding stock, in the next 12 months.