Celgene Cratering to Four-Year Low Leaves Analysts Split
(Bloomberg) -- Celgene Corp. sell-side analysts can't agree on what's next for the company with shares hovering near a four-year low.
The Summit, New Jersey-based biopharmaceutical company received mixed ratings changes as Bernstein upgraded the stock to outperform telling investors "at some point you have to step up" with valuation that is too cheap to ignore. Argus analyst David Toung moved to the sidelines on a risk-reward that has "tilted to greater risk" given an over-reliance on one of the world's biggest brand-name cancer treatments, Revlimid.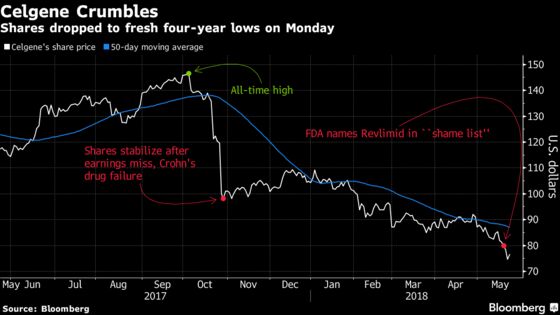 Shares tumbled on Monday to a four-year low after a news article about the departure of its former business development head, George Golumbeski, added gasoline to the fire of concerns for the drugmaker. Last week, Revlimid was named in a "shame list" published by the Food and Drug Administration of pharmaceutical companies that rivals say are blocking attempts to create cheaper generic versions of their products. The blockbuster accounted for more than 60 percent of Celgene's revenue in the first-quarter with more than $2 billion in sales. Shares extended a small relief rally today, gaining 3 percent over the last two sessions after falling for five days.
The company has faced growing scrutiny since October with mounting missteps in its clinical pipeline that sent shares sharply lower as it looks for ways to diversify revenue. The Bernstein analysts noted that the current valuation reflects the worst-case outcome on entry of a generic competitor to Revlimid in April 2020 and highlighted that valuation and market sentiment could change with a number of drug approvals in the next two years.
Tomorrow's R&D deep dive on multiple myeloma serves as the next near-term catalyst for analysts and investors to take sides ahead of the American Society of Clinical Oncology Annual Meeting at the start of next month.