Investors Burned by Sanctions Creep Back Into Russian Debt
(Bloomberg) -- It didn't take long for the world's biggest bond investors to decide that Russia isn't quite such a toxic trade after all.
Less than two months after getting caught out with overweight positions as Russian debt was roiled by a fresh round of U.S. sanctions, some traders are finding their appetite again amid a quiet patch in tensions between Washington and the Kremlin. Russia has outperformed all peers this month and is one of only two countries to post a return in a Bloomberg Barclays index of emerging-market local-currency bonds.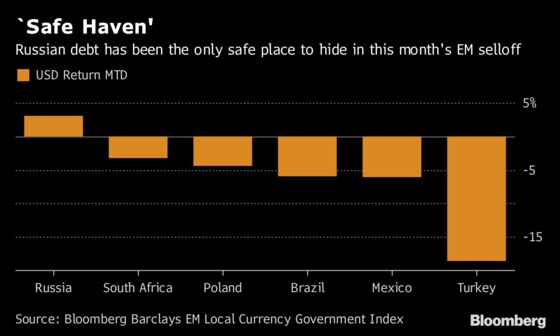 Aberdeen Standard Investments and Amundi Asset Management are both bullish on Russian local debt, while veteran investor Jim Rogers says he's been buying. Analysts at Societe Generale SA say clients are even starting to view Russian markets as a shelter from rising political risks in Turkey and the Eurozone.
"If there's one thing we expected to hear from clients the least at this juncture, it has to be the good-old paradigm of Russia as the 'safe haven' across emerging markets," SocGen analysts including Yury Tulinov wrote in a research note following investor meetings in London and Paris. "Surprisingly enough, it did come up from time to time, with clients generally proving more constructive than we had anticipated."
The uptick in sentiment is good news for President Vladimir Putin as he gears up to showcase Russia's investment potential in his hometown at the St. Petersburg International Economic Forum, which starts on Thursday. Investors say the event, as well as Russia's hosting of the World Cup, is fueling optimism that tensions with the U.S. will be bridled for the next few months.
The risks that spooked investors when the U.S. targeted Russia's biggest aluminum producer with sanctions last month haven't gone away. The U.S. has threatened to impose more penalties over alleged election meddling, while a committee of lawmakers in London is lobbying the U.K. government to push for European Union action barring Russian sovereign debt from international clearing houses.
The difference now is that investors have switched their attention to fundamentals amid an emerging-market rout that's put a spotlight on the economic fissures in many of Russia's peers. Unlike Turkey, South Africa and Argentina, Russia is well placed to withstand a rise in global interest rates due to its low debt levels and current-account surplus. The surge toward $80 a barrel in crude oil, Russia's main export earner, is making that argument even stronger.
Ruble debt has handed investors a return of 3 percent in dollar terms in May, compared with a loss of 4 percent for the Bloomberg Barclays local-debt index. Last month it was the worst performer, generating a loss of 9.4 percent.
"Turkey is blowing up, South Africa has some weakness. On the overall emerging-market level, Russia is one of the more solid stories," said Viktor Szabo, a money manager who helps oversee $15 billion in emerging-market debt at Aberdeen Standard Investments in London. "The sanctions risk hasn't gone away, but unless we have a real escalation somewhere, I don't see it as an imminent threat."