This Is Why Some Analysts Are Still Incredibly Bullish on Tesla
(Bloomberg) -- The bear case for electric-car maker Tesla Inc. has looked smart lately with shares down almost 10 percent from May 9 to Friday. But a report on Monday from Berenberg spells out a more bullish take.
The note follows tweets over the weekend from Chief Executive Officer Elon Musk about taking orders for the all-wheel-drive version of the Model 3 and letting customers use an app to request service. The market seems to be listening: Tesla jumped 4.5 percent to $289.21 at 11:14 a.m. in New York after the shares fell in six of the previous seven trading sessions. The gain pares the stock's year-to-date decline to about 7 percent.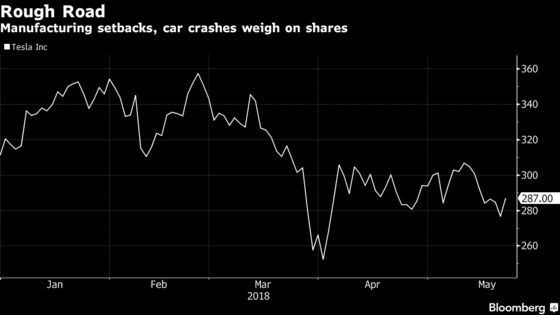 Berenberg analyst Alexander Haissl raised his price target to $500 from $470 in anticipation of better-than-expected Model 3 gross margins. Haissl said that "consensus has largely dismissed the prospect of a 25 percent gross margin on the Model 3" due to production delays and quality issues, but it's "almost totally flawed" to assume Model 3 margins based on the Model S sedan and Model X sport utility vehicle, he wrote in a note to clients. For example, the compact Model 3 will require only $1,000 of labor on average, compared with more than $4,000 for the Model S, he said.
Projections for strong profitability and vehicle assembly rising to 10,000 per week, underpin Haissl's bull case. The company's leading position among electric-car makers, opportunities to grow in China and the prospect that its Autopilot driver-assistance system can improve and become the core of a fleet of self-driving taxis also play into the more optimistic scenarios.
Haissl's price target remains the second highest among 23 analysts surveyed by Bloomberg, trailing only the $530 price set by New Street Research's Pierre Ferragu, formerly of Sanford Bernstein, who initiated coverage this month. He fleshed out his thesis in a TOPLive blog interview last week, exploring when the Palo Alto, California-based company may break even on cash.