Shut Up, Investors Told, as Argentina Unleashes Crisis Crackdown
(Bloomberg) -- Early on the evening of Friday, May 11, Argentina's most-powerful corporate executives rushed over to the official residence of President Mauricio Macri on the outskirts of Buenos Aires.
The peso had just plummeted 6 percent against the dollar for a second straight week and the small group -- which included a billionaire, a real-estate mogul and the local head of Fiat SpA -- had been summoned to discuss the steps being taken to combat what had quickly turned into Argentina's latest crisis. This made sense. Macri, after all, was an ex-businessman himself. He understood their concerns and would soothe their frayed nerves.
It didn't turn out that way.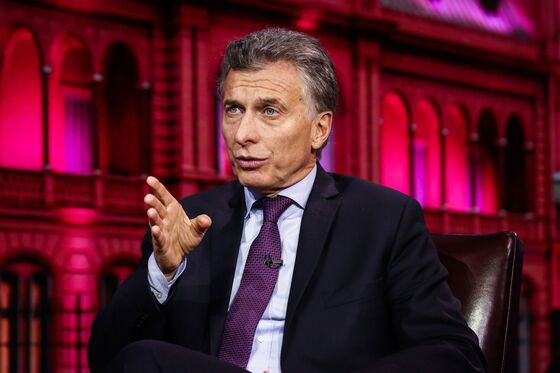 Within minutes of their arrival, a heated exchange broke out that left a frosty tension between the two sides which has only deepened in the days since. The problems began, according to three people present that evening, when some of the CEOs spoke up to express concern over the central bank's decision to boost benchmark rates to 40 percent.
They were immediately silenced by two Macri aides -- Deputy Cabinet Minister Gustavo Lopetegui and Industry Minister Francisco Cabrera. Don't worry about rates, the two officials insisted. Focus instead, they told their guests, on expressing support for the government at a difficult time; that's why the meeting had been called. A government spokesman declined to comment on specifics of the conversation.
The message had been sent: Toe the line or keep quiet. It would be delivered again and again in subsequent days and understood clearly by executives, big and small, all across the country. Almost none of the nearly two dozen companies and banks contacted by Bloomberg News was willing to comment on the record about how their business was being affected by the financial crisis.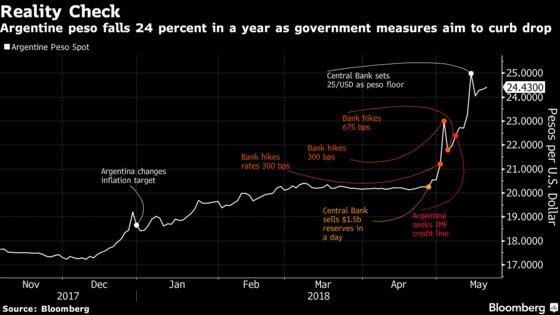 This with-us-or-against-us tack has caught many here by surprise. It's the kind of approach that Argentines had come to expect from the Kirchners -- the husband and wife combination who pursued a populist agenda for over a decade -- but this president was supposed to be different. A former automobile executive and soccer club president who had surrounded himself with Wall Street gurus and freed up markets to new investment, Macri was expected to be less heavy-handed, more tolerant.
"I suspect that going forward, we won't return again to the kind of tactics that we thought we had left in the past," said Daniel Marx, a former finance secretary who now runs a Buenos Aires-based consulting firm called Quantum Finanzas. "But in moments of panic, like on that Friday, they reappeared."
They reappeared in part because the swiftness and the magnitude of the crisis were a shock to an administration that felt it had successfully charmed international investors.
Having finally put its epic 2001 default behind it, Argentina was the darling of the bond market once again. It sold more than $40 billion worth of securities, including a rare 100-year bond, in Macri's first two and a half years in office. And there was an air of confidence in government circles. "I'm convinced Argentina will be the star of emerging markets for the next 20 years," Finance Minister Luis Caputo proclaimed last year. "I don't mean to be cocky, but it's very evident."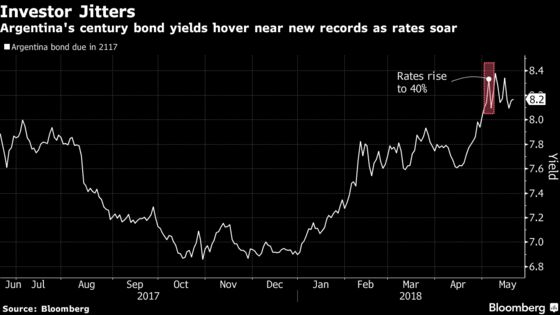 But progress on key structural reforms -- like cutting the budget gap to rein in 25 percent inflation -- was slow, and when yields suddenly climbed in the U.S., investors got nervous and started yanking money out of the country. The peso has sunk 24 percent this year to a record low 25 per dollar, the worst of all the emerging-market selloffs sparked this year by the shift in U.S. markets. A series of rapid-fire interest-rate hikes coupled with the government's push to secure financial aid from the International Monetary Fund have stemmed the rout and taken some of the pressure off policy makers.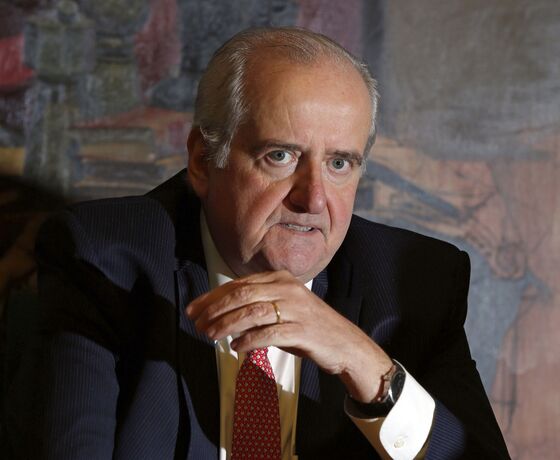 Tensions with the business community remain, though. Last week, Luis Pagani, the CEO of Arcor SAIC, Argentina's largest candy exporter, was admonished for questioning the president's leadership in an interview with newspaper Perfil. "I don't know if there's a plan right now," Pagani told the paper. A government official asked him to retract the comments, a request he refused, according to a person familiar with the matter. Press officials for Arcor and the government declined to comment on the matter.
Only one business executive was willing to talk to Bloomberg News on the record.
Alejandro Reca, director of San Ignacio, a caramel exporter known for its flagship dulce-de-leche product, laid out a grim picture for the Argentine economy. The surge in benchmark rates, he said, has left many of the company's local clients without access to credit and quickly choked off demand. Domestic orders are down 50 percent this year, he said.
And in the past two months, San Ignacio has had to take four buyers to court after receiving deferred checks -- a common form of payment in Argentina -- that ultimately bounced.
"The party is over," Reca said. "People are cutting consumption. We will have to survive on exports."
The government wants to see more exports too. Those sales bring in much-needed dollars that can help stabilize the peso. The country's soybean farmers, the biggest exporters in the country, got an earful about this the other day from congresswoman Elisa Carrio, a prominent member of the Macri coalition.
This wasn't the time, Carrio told the farmers in a Tweet, to be storing soy in silos and waiting for better prices. "We helped you in the tough times," she wrote. "Now I say to you: Don't hold back the soy."
When she later appeared on TV, she punctuated her remarks with a line that easily could have come from either of the Kirchners years earlier or, for that matter, from Fidel Castro: "Do it for the fatherland."