Fifth Third Slumps After $4.7 Billion Deal for MB Financial
(Bloomberg) -- Fifth Third Bancorp slumped the most in almost two years on concern it's overpaying to improve its standing in the Chicago area with a $4.7 billion purchase of MB Financial Inc.
Cincinnati, Ohio-based Fifth Third fell 7.8 percent in New York trading after announcing the size of the transaction, the most the company has ever paid for an acquisition and 24 percent higher than MB Financial's closing level last week.
"They're giving away more upfront than they're getting in the short term," Chris Marinac, director of research for FIG Partners, said in a telephone interview. "Fifth Third's paying a premium in a pretty big way."
The deal helps Fifth Third build critical mass in Chicago, where the combined entity will be the second-largest bank by deposits, behind JPMorgan Chase & Co. Fifth Third, which gains MB Financial's roughly $20 billion of assets, said in a statement Monday that it can boost financial targets with the acquisition. MB Financial, which was founded in 1911 by a group of Chicago businessmen, focuses on lending to midsize companies.
The Chicago market has become highly fragmented in recent years and has drawn interest from Canadian banks looking to expand in the U.S., according to Nathan Race, an analyst at Piper Jaffray & Co. The largest U.S. banks control a smaller percentage of assets in Chicago than in other major markets, including New York, Los Angeles, Atlanta and Dallas.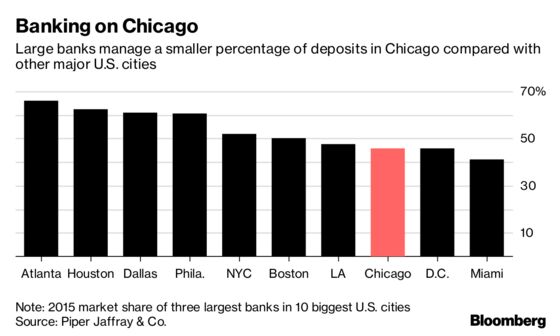 Chicago, where MB Financial is based, also has the second-highest number of midsize firms in the U.S. behind New York City, making it an attractive market for commercial banking, Fifth Third Chief Executive Officer Greg Carmichael said on a conference call. The bank has long focused on large corporate customers, he said, and buying MB Financial will offer greater access to smaller commercial clients.
"This is not a company that is spread out to weaker markets across different states," Tayfun Tuzun, chief financial officer at Fifth Third, said on the call. "This is one single market, a very important market for us, and we'll hit the ground running day one. And what we paid for the company is everything related to what this company brings to us."
The acquisition will generate an internal rate of return of almost 19 percent and be accretive to operating earnings in the first year, according to Carmichael. It will probably reduce Fifth Third's regulatory common equity Tier 1 ratio by about 45 basis points, the bank said.
"There were no other potential partners of the same caliber as MB Financial in the Chicago market," said Carmichael, whose company was founded in 1882.
The bank, formed through a series of mergers, expanded into Florida in the 1990s to serve customers who traveled there for the winter. That timing proved poor when commercial mortgages in the state generated big losses.
Mitch Feiger, MB Financial's CEO, said on the conference call that the bidding process for his firm was competitive, and last for a "long period of time." Feiger will be Fifth Third's chairman and CEO for the Chicago region.
MB Financial shareholders will receive a total of about $54.20 for each of their shares, consisting of 1.45 shares of Fifth Third common stock and $5.54 in cash, the companies said. Two members of MB Financial's board will join Fifth Third's board. About 90 percent of the deal will be paid for in stock and the rest in cash.
MB Financial rose 13 percent to $49.46 at 1:23 p.m., while Fifth Third dropped 7.8 percent to $30.93.