Cambridge's $8.5-Billion Endowment to Respond to Divestment Push
(Bloomberg) -- Cambridge University's 6.3 billion-pound ($8.5 billion) endowment fund may make a decision on whether it will divest from fossil fuels.
The British university's governing council is set to respond to a report from its Divestment Working Group, a body of academics, researchers and students at Cambridge asked to study the issue. The document was submitted to the university's trustees in April at the last council meeting. It isn't certain the board will act or make a decision this week, but it is meeting on Monday morning.
Cambridge has come under intense pressure from students after a group of scientists and academics including David King, the U.K.'s former special representative for climate change, wrote an open letter to the university, pushing for the endowment fund to stop investing in oil and gas companies.
"Divestment is both necessary and urgent to stigmatize the fossil fuel industry who are most responsible for a warming climate," they wrote, calling on the fund's investment team to "immediately freeze any new investments in fossil fuel companies, and to divest from direct ownership and any commingled funds that include fossil fuel public equities and corporate bonds within five years."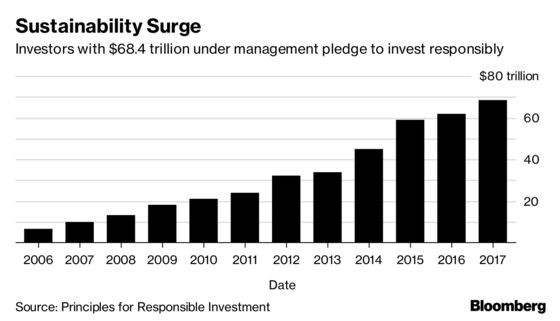 Divestment from businesses extracting and trading fossil fuels has been a growing trend in recent years. Institutional investors with $68.4 trillion under management have signed up to the Principles for Responsible Investment, pledging to incorporate environmental, social and governance factors, known as ESG, into their investment decisions.
The Rockefeller Family Fund sold its stake in Exxon Mobil Corp. in 2016 and said it plans to dump all other fossil-fuel investments. French insurer AXA SA said it would scrap its coal holdings valued at 500 million euros ($589 million). Norway's $1 trillion sovereign wealth fund said last year that it would sell its oil and gas stocks.
Several university funds have made similar moves. In 2015, Oxford University said its 1.7 billion-pound endowment would avoid direct investments in coal and oil sands companies and also steer clear of sectors with high social and environmental risks. Stanford University no longer invests in coal, although it's also come under pressure recently from its students to divest from oil and gas.
The campaign at Cambridge comes at a time when other investors are also pressuring oil and gas companies directly. Sixty large institutional investors including Aberdeen Standard Investments Ltd. and Amundi SA, Europe's largest asset manager, are demanding that the companies "take responsibility for all of its emissions" and "clarify how they see their future in a low-carbon world" in a letter published in the Financial Times on May 18.
Cambridge has received donations from the U.K.'s largest oil company to form the BP Institute for Multiphase Flow, which was established in 2000 and researches oil and gas extraction. The university's endowment doesn't disclose exactly how much it holds in fossil fuel stocks, but it allocates 61 percent of its funds to equities, according to data compiled by Bloomberg.